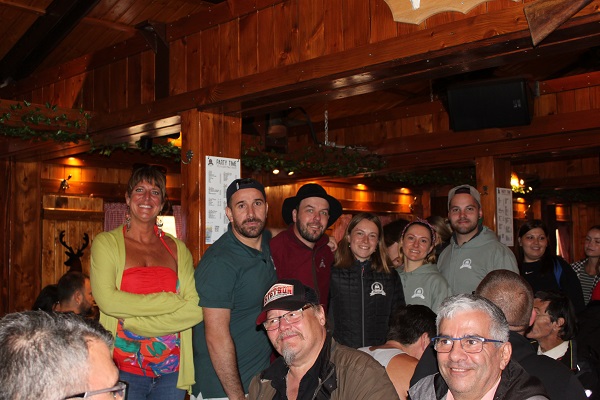 Credit: Otilia Dragan/Chronicle.lu
On Wednesday 30 August 2023, Stëmm vun der Strooss invited beneficiaries of its three social restaurants in Luxembourg City, Ettelbruck and Esch-sur-Alzette to an afternoon at the Schueberfouer, which has become an annual tradition.
On this occasion, the local non-profit organisation strives to offer unhoused and vulnerable members of society an enjoyable day - just as most in Luxembourg can enjoy such a day. The group of 174 people met at the Schueberfouer's main entrance in Glacis car park in Luxembourg-Limpertsberg at noon. Each guest was offered the chance to go on three rides for free, but not everyone wanted to go on rides, as Stëmm vun der Strooss Director Alexandra Oxacelay explained to Chronicle.lu. While Gladiator and the Ferris wheel were the most popular rides, some just preferred to walk around, have a drink somewhere and perhaps see people again after some time apart. "The time is too short," Alexandra Oxacelay lamented. "They wait the entire year for these things. They are so happy."
After the Schueberfouer tour, as every year for the ninth year in a row, lunch was served at the Kessel restaurant, owned by Jérôme Bigard. Beneficiaries were offered a drink and a bouchée à la reine (a traditional "vol-au-vent" style pastry dish) or a Gromperekichelcher burger at the right time, as it had just started drizzling.
The chalet-like restaurant's warm and comfortable atmosphere offered a moment of respite and conviviality for people in need who await these occasions with great anticipation. A big round of applause and cheers filled the jam-packed chalet.
Elaborating on the importance of such outings, Alexandra Oxacelay explained that Stëmm vun der Strooss beneficiaries "belong to society. They are a part of our society and as their wallet is not as full as the wallet of the majority of society, for me it's not a question. It's just normal. If we wouldn't organise a Christmas party or going out on the Schueberfouer, who else should do it?"
Ronny Scheid, a Stëmm vun der Strooss beneficiary, confirmed: "It was super, like everything Stëmm vun der Strooss does, a possibility for people who don't have that much money to still go to the 'Fouer' and spend a beautiful day among friends. It was really lovely."
Josiane, a Stëmm vun der Strooss volunteer who has been joining such trips for a number of years, told Chronicle.lu she enjoys the atmosphere but also looks after beneficiaries' dogs or hold their bags when they go on rides. "It is always an enjoyable day because they are so joyful to be able to take part in it. They are happy to get a meal, a drink, conviviality. It is a joy," she smiled.
"I wish, as an association, to have the opportunity again to organise such important outings and I hope that we will still get the help from our donors and from the government to be able to take care of the people nobody wants to care for," Alexandra Oxacelay concluded.