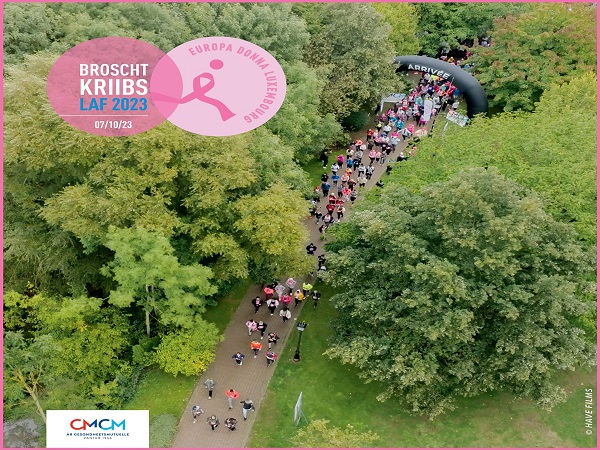 Broschtkriibslaf 2022; Credit: Have Films
Registration is now open for this year's Broschtkriibslaf (race against breast cancer), which will take place in Parc de Hesperange on Saturday 7 October 2023, starting at 10:00.
Through this annual recreational race, Europa Donna Luxembourg aims to raise public awareness about the importance of physical activity in disease prevention and simultaneously launch a fundraising campaign to support those affected and their families.
Hundreds of runners mostly dressed in pink will gather at the BKL Village, including partners, sponsors and friends. Some come with their dogs or prams. The 4 km route can be completed by jogging or (Nordic) walking; participants can define the total laps and distance they want to cover. On-site catering is provided.
Those interested in participating in the race can register now as an individual or as a group. They can take part in person at the park in Hesperange or "virtually" from their home. For registration and other practical information, visit https://www.broschtkriibslaf.lu/.
Europa Donna Luxembourg's objective is to understand the needs and problems of people affected by breast cancer and implement various means to optimise their care during diagnosis, treatment and social reintegration, supporting them during this challenging period. In Luxembourg, approximately 500 women are affected by breast cancer each year. Studies show that in 25% to 33% of breast cancer cases, excess weight and physical inactivity could be the cause. Through awareness campaigns and actions organised by Europa Donna, the taboo surrounding the disease is gradually lifting, noted the race organisers.