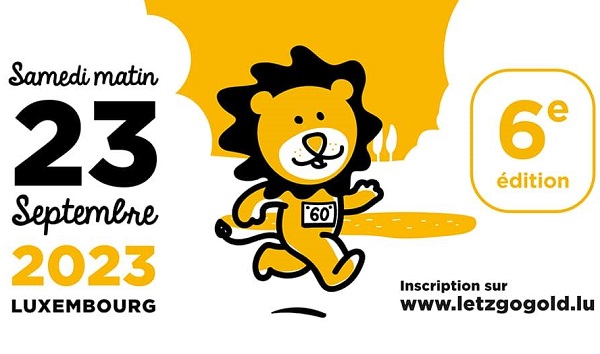 The sixth edition of the LËTZ GO GOLD charity run, organised by Fondatioun Kriibskrank Kanner, will take place in Luxembourg on Saturday 23 September 2023.
Each participant pledges to raise at least €200 (€100 for children and students under the age of 25) to finance research aimed at finding new cures, improving existing ones and learning more about the causes of paediatric cancers. 100% of donations will be allocated to childhood cancer research projects; the previous edition raised €560,000 for childhood cancer research. The organisational costs are funded separately by the event sponsors.
Fondatioun Kriibskrank Kanner offers support to families affected by childhood cancer, raises awareness and supports research in the field.
This year's LËTZ GO GOLD will start at 09:00 on 23 September in Kockelscheuer. At the time of writing, 529 participants and 48 teams had signed up for this edition (pledging almost €94,000).
The mascots of Fondatioun Kriibskrank Kanner and Cactus (event partner), Poldi and Yuppi, will be present to encourage participants during the run.
This year, in addition to on-site parking, round-trip shuttle buses will run between P+R Lux-Sud Quai 4 and Kockelscheuer, P+R Patinoire Quai 2.
For further information about registration, visit https://www.letzgogold.lu/en/content/page/registration.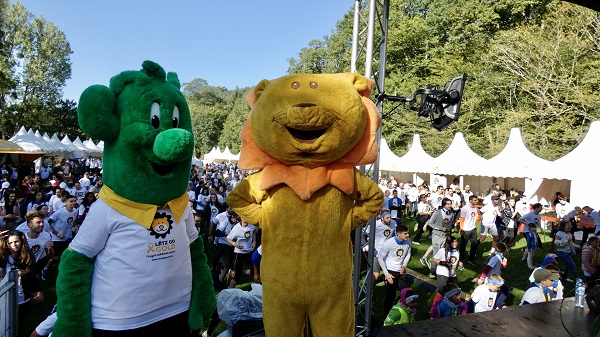 Pictured: Mascots Yuppi and Poldi (Credit: Cactus)