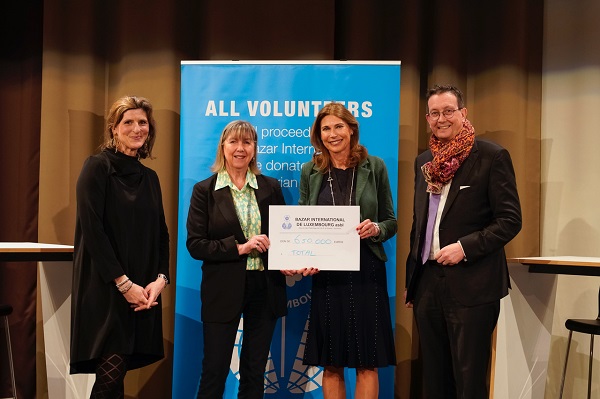 (L-R) Charlotte de Vreeze-Nauta, member of Bazar International Board; Lydie Polfer, Mayor of Luxembourg City; Carmen Decalf, President of Bazar International; Maurice Bauer, City of Luxembourg Alderman; Credit: Yan Sagramola
The International Bazaar (Bazar International) has announced that it is donating a record €650,000 to 43 charities and the Bazar's Emergency Relief Fund this year.
The announcement was made during the cheque presentation ceremony at BGL BNP Paribas on Wednesday 22 March 2023. This ceremony celebrated the results of the International Bazaar and offered a glimpse of the versatility of the humanitarian projects that it is able to support thanks to the revenues generated by the annual International Bazaar weekend in November. The projects that receive donations are diverse in nature, but they all help people in need, focusing on victims of poverty, violence and/or social isolation.
Carmen Decalf, President of the International Bazaar, commented: "It is a great moment with immense joy, to see the outcome of our year-long work. It is very moving to know that with this record-high result we can give so much support to humanitarian projects across the globe." She elaborated: "43 projects were selected, of which four are in Luxembourg and 39 in different continents. The financial support of the Bazar International supports charities that are very diverse in nature: medical support, reintegration of young and vulnerable people, education of indigenous women, psychological support for children that have fallen victim to sexual abuse or forced marriage, help for families with seriously ill children. The list is long and every project means a lot to us."
One of the charities represented at the cheque presentation ceremony was Terres Rouges, a non-profit organisation that looks after children who live on the streets of Benin in West Africa. Terres Rouges responds to the children's basic needs, offering medical care, food, a place to spend the night, education and a residential centre for very young children (aged five to twelve). The International Bazaar donation will allow the non-profit to increase the capacity of this residential centre.
Another project, located in Laos, represented at the ceremony was Association Écoles CHAMPA LAO. The people in charge of this project thanked the International Bazaar for this support and demonstrated the progress of the construction of a HORESCA training centre in the south of Laos for disadvantaged and out-of-school young people at risk. This project provides them with professional training and job possibilities, thus protecting them from sexual exploitation and/or human trafficking.
Each year, the International Bazaar selects a main charity that will receive a significantly higher amount than the others. This year's main charity was Soeurs d'Ursuline: three nuns run a medical facility in South Sudan, carrying out 2,500 medical interventions per month, with the help of one doctor and two nurses.
In Europe, the International Bazaar is supporting, among others, several medically-focused organisations, such as Rugute, an organisation in Lithuania that supports children with cancer and their families. It allows for these young patients to receive the best treatment available by helping their families financially. Four of the organisations to receive support from the International Bazaar this year are based in Luxembourg. One of them helps young, fragile families to take care of their babies; another focuses on supporting people living on the street with food, clothes and medical care; one organisation funds testing for early detection of leukaemia; another is a food bank.
The International Bazaar also has an emergency relief fund in place that allows for quick and effective ad hoc support of victims of emergencies and natural disasters around the world. The record-high results of last year's International Bazaar weekend have allowed for a solid injection into this fund. One donation was recently made to help the victims of the earthquakes in Syria and Turkey, via Caritas. The International Bazaar is also continuing to support various initiatives that help children, young people and families displaced from Ukraine in neighbouring regions.