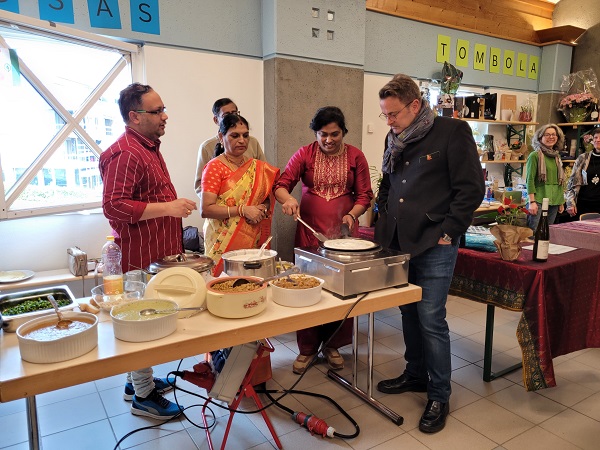 Luxembourg's Prime Minister Xavier Bettel gets ready to try some traditional dishes at the India-Nepal Bazaar; Credit: Jazmin Campbell / Chronicle.lu
Local non-profit organisation Aide à l'Enfance de l'Inde et du Népal (AEIN) held its 43rd India-Nepal Bazaar on Sunday 19 March 2023 at the Centre Culturel Sandweiler.
The opening ceremony took place on Sunday morning in the presence of Luxembourg's Prime Minister Xavier Bettel, who visited the different stands, the Mayor of Sandweiler, Simone Massard-Stitz, the Deputy Chief of Mission at the Embassy of India in Brussels (also accredited to Luxembourg), Debasish Prusty, and AEIN President Françoise Binsfeld, among others.
Later in the day, the Mayor of Luxembourg City, Lydie Polfer, and the Minister for Family Affairs, Integration and the Greater Region, Corinne Cahen, were among those to make an appearance at the bazaar.
Throughout the day, visitors could enjoy various Indian and Nepali dishes, including dosas, samosas and kulfi (type of ice cream), and drinks, as well as an Indian buffet lunch or Luxembourgish menu, and browse stands showcasing handmade artisanal products and second-hand items. In the afternoon, there were several traditional cultural performances, including classical dances from South India, Bollywood dance performances and even a Portuguese dance performance. Facepainting was also on the agenda for the younger visitors.
All the proceeds from the 2023 bazaar will go towards financing two projects in the field of health and climate change in India and Nepal.