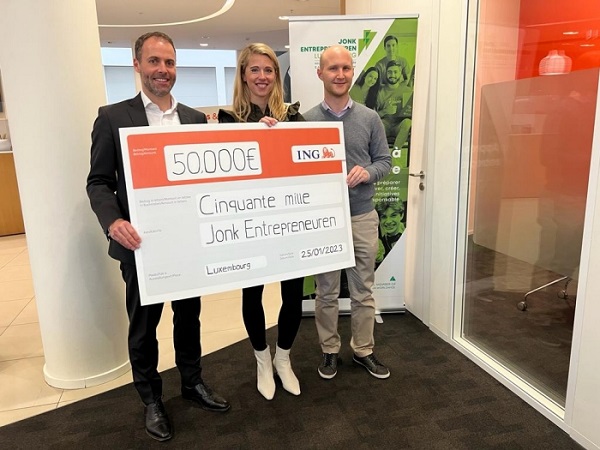 ING Luxembourg donation to Jonk Entrepreneuren Luxembourg;
For a number of years, ING Luxembourg has been active in the "Job Shadow Day" and "Fit For Life" programmes established by Jonk Entrepreneuren Luxembourg (JEL); in this context, it presented a cheque for €50,000 to the organisation for its financial education activities in the Grand Duchy.
The "Job Shadow Day" project gives students aged 16+ the opportunity to discover the life of a business and to accompany the managing director or his or her representatives during a working day.
"Fit for Life" is an educational programme for pupils aged 14 to 16 years, which aims to pass on economic, financial and business concepts through the intervention of an external volunteer. It stimulates reflection on professional and personal choices by addressing topics such as education and career options, loans and taxes.
Several ING Luxembourg employees volunteered to participate in these two initiatives.
ING has placed financial education at the heart of its sustainability policy. Through this collaboration, the bank has reaffirmed its commitment to working with stakeholders in Luxembourg to enable citizens, and in particular young people, to better understand and manage their personal finances. In this context, ING Luxembourg has announced a financial support to Jonk Entrepreneuren Luxembourg by making a donation of €50,000.
"Financial education plays an essential role in preparing young people to live an independent life, to choose a career that suits them and to carry out the personal or entrepreneurial projects that are close to their hearts", stated Stéphanie Damgé, Director of Jonk Entrepreneuren.
Jonk Entrepreneuren Luxembourg asbl
Founded in 2005, Jonk Entrepreneuren Luxembourg has been under the high patronage of HRH the Grand Duke Héritier since 2013. Its mission is "to inspire and prepare young people to innovate, create, take initiatives and be responsible". The aim of the association is to encourage creativity and entrepreneurial spirit in young people and to introduce them to professional life through 12 educational programmes organised at each level of Luxembourg education. In 2021/22, the Fit For Life programme reached around 3,000 pupils in 35 schools in collaboration with more than 90 volunteers.