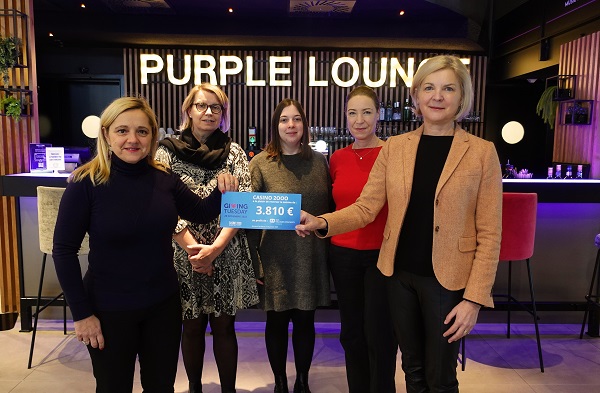 Lydia Biringer-Schmitt, Anne Leick and Marine Weber of Casino 2000 present a cheque to Sophie Glesener and Anne Schweizer of SOS Villages d'Enfants Monde; Credit: Laurie-Anne Allard
Luxembourg non-profit organisation SOS Villages d'Enfants Monde has announced that it recently received a cheque for €3,810 from Casino 2000 as part of last year's "Giving Tuesday" campaign.
After taking part in Giving Tuesday 2021, the Casino 2000 team reiterated its commitment to SOS Villages d'Enfants Monde by participating in the second edition of this fundraising campaign.
The campaign took place in the Purple Lounge and Les Roses restaurants of Casino 2000 in Mondorf-les-Bains in November 2022. It raised a total of €3,810 for a project in Colombia committed to helping young unaccompanied Venezuelan migrants.
The cheque presentation took place at the end of January 2023 in Mondorf-les-Bains, where Anne Leick, Marketing & Sales Director at Casino 2000, Lydia Biringer-Schmitt, Finance & HR Director, and Marine Weber, Marketing Assistant, welcomed Sophie Glesener, Director of SOS Villiages d'Enfants Monde, and Anne Schweizer, Head of Partnerships.
This meeting was an opportunity to discuss the beneficiary project in Colombia, which continues on from an initial project undertaken between 2021 and 2022, which enabled the opening of two temporary reception centres for children and adolescents in the border towns of Maicao and Ipialès. These centres offered the children accommodation, healthcare and educational activities. Similarly, the new project aims to ensure the safety and protection of exiled minors, meet their essential needs, offer them psychosocial support and, when possible, reunite them with their families (or find suitable alternative care for them). This concerns about 200 children and adolescents and 100 adults.
By relaunching its Giving Tuesday solidarity campaign with its partners, SOS Villages d'Enfants Monde hoped to raise awareness among a wide audience of its work for the world's most vulnerable children.
Sophie Glesener and Anne Schweizer expressed their gratitude to Casino 2000 for their continued partnership.