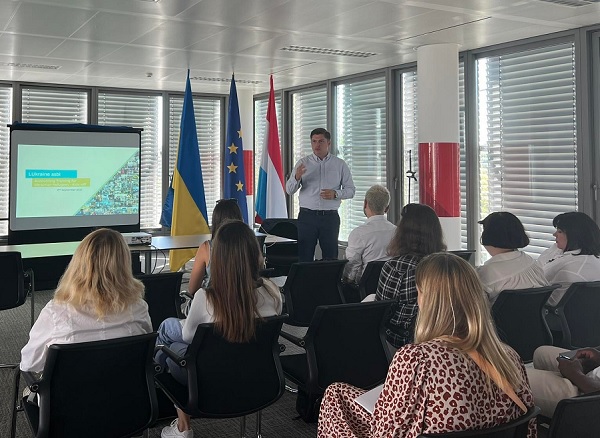 LUkraine training at KPMG;
LUkraine asbl has confirmed that they have received a total of 850 m2 of office space in Luxembourg-Kirchberg from KPMG Luxembourg with which to undertake a series of training courses and use as office space.
This benefit-in-kind has enabled the association to set up an environment dedicated to helping Ukrainian refugees arriving in Luxembourg. Numerous successful projects regarding refugee assimilation have been undergoing in the office since its donation to LUkraine asbl.
"Giving this space for 5 months was a good initiative and we know that it was for a very good purpose. The room helps to cater for different needs of refugees, especially in relation to education (offering English and French courses, helping children, offering ad-hoc therapy with psychologists, etc.). This was very close to our heart" stated Françoise Renard, Partner and Head of Corporate Citizenship at KPMG Luxembourg.
The office space has been used almost daily for language lessons, both French and English, which have seen over 360 enrolled students. These are crucial to support those currently undergoing job-seeking processes, which have also been addressed in special masterclasses held at the office. Other activities, such as yoga sessions, are also being offered to refugees wishing to participate. Thus, the ongoing process of assimilation and integration of refugees in Luxembourg is well underway within the walls of the donated premises.
In addition, one of the meeting rooms has been converted into a welcoming therapy room full of toys and cushions. Considering that many have had to flee the war in difficult circumstances, comfort and availability of psychological help is of utmost importance. A handful of Ukrainian psychologists offer necessary treatment to patients, both young and old, on a regular basis in remote settings and in-person.
Ultimately, the office space is an opportunity for members of the LUkraine asbl team and its volunteers to effectively hold gatherings in order to plan future events, projects and calls to action. Press conferences, daily assemblies, team-building meetings and more have been held in the office space since its donation.
"We thank KPMG Luxembourg a lot for giving us a possibility to be welcomed in such a big space that allows us to perform our activities regarding refugee help and our working teams' brainstorming on a daily basis. We are now looking for another free location and will be appreciate to any company, who could help us with this" added Olena Klopota, General Secretary of LUkraine asbl.