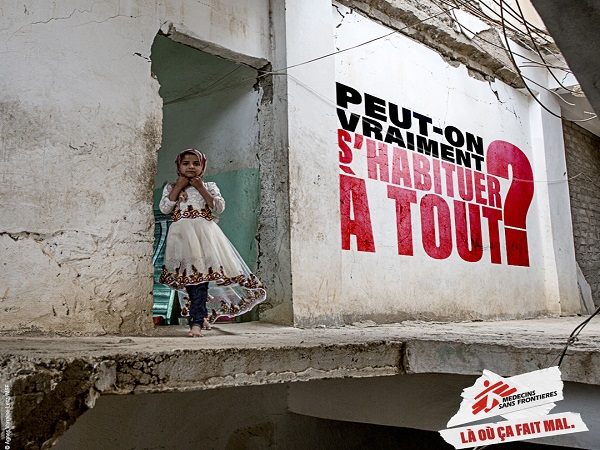 A visual showing a young girl in Yemen. The slogan reads: Can we really get used to anything?; Credit: MSF Luxembourg
From Tuesday 29 November to Monday 19 December 2022, MSF Luxembourg is launching its new communication campaign, "Where it hurts" (translated from the French "Là où ça fait mal"), to raise awareness of human suffering around the world.
By taking up MSF's original creed, namely to relieve human suffering, without distinction, wherever it is, the objective of this campaign is to awaken the collective conscience to the urgency of acting and to encourage the generosity of the general public.
As MSF Luxembourg stated, conflicts, wars, epidemics and natural disasters destroy or weaken health systems, force people to leave everything and deprive men, women and children of access to care. Worldwide, more than a tenth of the population currently suffers from some form of malnutrition and its consequences. In Pakistan, no fewer than 33 million people have been affected by floods. In the southern hemisphere, major measles epidemics kill thousands of children each year. And today, cholera epidemics are underway in countries where the disease had been eradicated.
Using photos taken by MSF photographers in different contexts, this campaign immerses the public in the heart of crises, "where it hurts": in the Mediterranean, in a displaced persons camp in Nigeria or in the rubble left by bombs in Yemen and Syria. These visuals warn of the living conditions and the dangers to which millions of people are exposed throughout the world. The slogans used invite the public to reflect on its own capacity for action, by supporting a medical humanitarian emergency non-governmental organisation that intervenes with those who need it most.
For 50 years, MSF has been a field player that has been able to adapt to respond to the various crises, conflicts, epidemics or climatic disasters with which its teams have been confronted. The organisation relies on its presence in more than 70 countries, strong expertise in local contexts and an efficient logistics system that allows teams, as well as equipment, to arrive on site and to be generally operational in less than 72 hours. But, as MSF Luxembourg emphasised, none of this would be possible without the humanity shown by millions of donors around the world. In fact, MSF is 99% funded by private donations.
Further information on this new campaign is available online at: https://msf.lu/fr/la-ou-ca-fait-mal. Donations can also be made via this website.