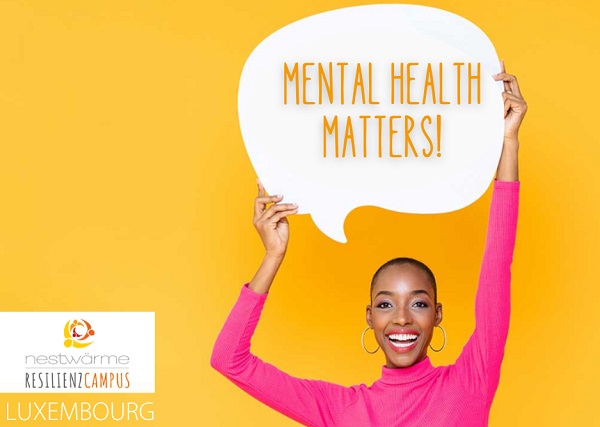 Credit: nestwärme Luxembourg
In the context of Mental Health Week, which is taking place in the Grand Duchy from 10 to 16 October 2022, nestwärme Luxembourg asbl has announced the launch of a series of resilience lectures, workshops and courses.
Founded by Petra Moske and Elisabeth Schuh as a social enterprise in Germany in 1999, nestwärme e.V. Deutschland has since expanded to include subsidiaries in Luxembourg (since 2019) and Austria. This increasingly international network represents a resilient community with a focus on families with disabled or ill children.
As Dirk Hense, Vice-President of nestwärme Luxembourg, explained to Chronicle.lu, the nestwärme network also contributes to the United Nations' (UN) Sustainable Development Goals (SDGs), particularly SDG 3 (good health and well-being) and SDG 4 (quality education), through its resilience programmes. The approach, established by the Bertelsmann group in Germany, is based on an impact cycle which focuses on the needs of the target group, i.e. ill or disabled children and their families. The main role of the network is to deliver the input (resources) needed to make proposals and develop projects "to solve or reduce social problems", noted Mr Hense. The network also looks at the deliverables (output) and the outcome, i.e. the impact of this work on the target group in terms of knowledge and behaviour, building on this feedback to improve its projects.
Elaborating on nestwärme's target group, Dirk Hense explained that the main focus is on children suffering from a variety of mental and physical illnesses as well as their families. "Even before the Ukraine war, before coronavirus, before the energy crisis, these families have been all the time in very difficult situations", he noted. "They faced essentially social exclusion, existential threats (e.g. one parent stops working) and psychological stress as well". He added that during lockdown, nestwärme had "huge demand" from people wanting to volunteer for the network, because they could relate to these families who have faced social isolation and exclusion for years. He also explained that the name "nestwärme" refers to the warmth of a nest, thus evoking a "feeling of belonging and community" - something which a lot of people missed during the COVID-19 pandemic.
Specifically regarding the Luxembourg subsidiary, which was set up just before the pandemic, Dirk Hense explained that the team has been focusing on different targets whilst developing proposals for services which may be lacking, such as accessible courses and workshops dedicated to mental health and the resilience needed in the face of challenging situations. The Luxembourg team can rely on several years of experience with such educational projects across its network, although the offer is new in the Grand Duchy. Having developed its own proved training concept to strengthen people's resources, and having received significant support over the past year or so, nestwärme is now ready to present its curriculum (based on eight factors of resilience) and various lectures and workshops to the Luxembourgish public. The choice to do so during Mental Health Week was deliberate, "because it's a very good opportunity, apart from the courses, to bring this subject into people's minds", confirmed Mr Hense.
This week, nestwärme Luxembourg launched a one-hour online resilience lecture and a four-hour online resilience workshop, both of which follow a "low-level approach, to make people understand that not only physical health is important, but also mental health". He added that the goal was also to destigmatise the subject of mental health, not least among families with ill or disabled children, and promote a positive approach to one's mental health in general. Mr Hense noted that in addition to offering resilience courses, the network's objective is to make mental health more of a priority and encourage the development of resilience levels like a muscle in order to address new challenges.
Alongside the initial online lecture and workshop, which are taking place this week and next, nestwärme has launched a more in-depth online practitioner course (two two-day sessions with twelve people). In the second half of this course, participants can openly speak about a specific topic and their peers can make recommendations based on what they have learned. Following this, participants may form smaller peer groups to continue to work on their chosen topics for a longer period of time.
Currently, these educational activities are offered exclusively in German, but nestwärme Luxembourg plans to hold them in English and French in the near future (as early as April 2023 for an English-language lecture and workshop). In the meantime, the English-speaking community is welcome to contact the network to discuss ongoing activities and to request support, assured Dirk Hense. Courses may also take place in person in future. Announcements are expected to be made in the coming months on nestwärme Luxembourg's Facebook page and website. In the meantime, the main idea is to focus on raising awareness in a first phase, as Mr Hense confirmed.