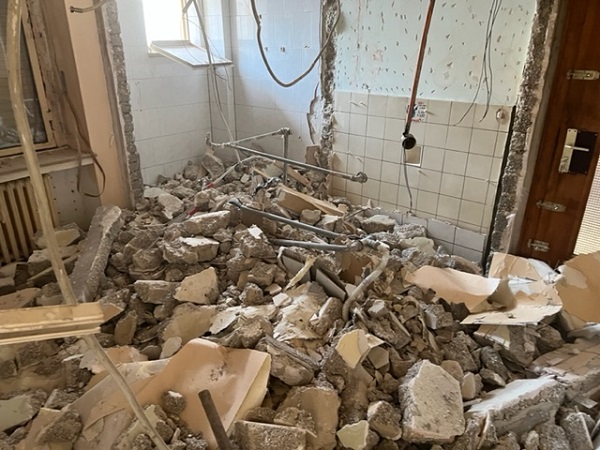 Credit: Stëmm vun der Strooss
Stëmm vun der Strooss, a local non-profit organisation which supports homeless people and vulnerable members of Luxembourg society, has announced the launch of construction works on its future social restaurant in Ettelbruck.
The non-profit had been considering the idea of providing those in need with a place to go in the north of the country for several years. This year, the non-profit will finally open a new social restaurant in the northern region, with the support of Luxembourg's Ministry of Health, the City of Ettelbruck and many donors.
After several months, Stëmm vun der Strooss found a suitable location at 47 Rue Prince Henri in Ettelbruck, near the railway station. The former fast food restaurant covers 69.90 m² and will be able to serve around 30 people at a time.
The non-profit has already been present in Ettelbruck for some time to familiarise itself with the target group and to build relationships. Since 7 March 2022, Stëmm vun der Strooss began to distribute soup to those in need three times a week, in a car park near the train station. This space was authorised by the municipality of Ettelbruck. During the first weeks, the non-profit distributed about 20 soups daily.
When summer and high temperatures arrived in June 2022, the non-profit prepared sandwiches and the number of meals quickly increased to 50 per day. Every Friday, a team of two educators grilled under the leadership of Francesco Settanni, head of Stëmm vun der Strooss' site in Esch-sur-Alzette, who explained: "The hot meals attracted a lot of people, we were at 80 barbeque dishes every Friday, which shows that there is a real need here in the north".
Since 1 June 2022, the team has been present in Ettelbruck Monday to Friday from 11:30 to 15:00 to distribute food and drinks.
The move to the new premises is expected to simplify the work of the educators and at the same time offer greater comfort to those in need. Construction work started on 3 October and the non-profit hopes to open the doors of this new social restaurant in mid-November 2022.