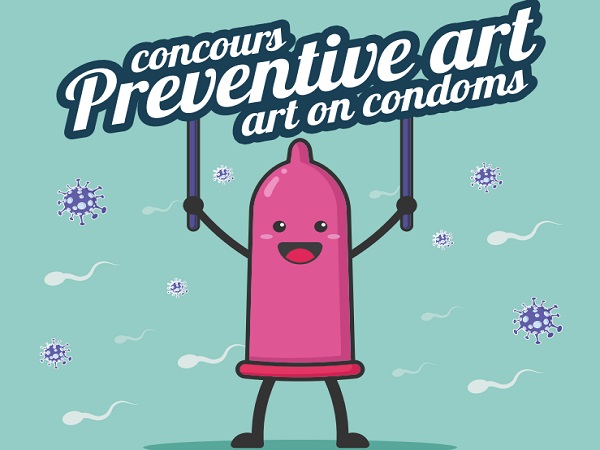 Credit: HIV Berodung service of Luxembourg Red Cross
The HIV Berodung service of the Luxembourg Red Cross has launched the 2022 edition of its "Preventive Art - Art on Condoms" competition, creating visuals for condom packages with the aim of raising awareness of HIV prevention.
"The human immunodeficiency virus (HIV) continues to be transmitted, especially through unprotected sex. Although new prevention strategies exist, the condom remains the first prevention tool to protect against HIV and other sexually transmitted infections", explained Claudia Pedroso, project manager at the HIV Berodung service.
The objective of the competition is to let the public's imaginations and creativity run free in order to create a layout for condom packaging based on the theme "SÉCHER ËNNERWEE".
"The prevention message 'SÉCHER ËNNERWEE' symbolises prevention by any means. There are several ways to prevent HIV infection, the important thing is to protect yourself by choosing YOUR prevention (condom, PREP, PEP, TASP, harm reduction), the one that suits you best, without stigma or judgement. Prevention must become an automatic reflex, like putting on the seat belt when you get into the car or a helmet when riding a bike!", noted Sandy Kubaj, Director of the HIV Berodung service.
Submissions will be accepted until 17:00 on 7 November 2022. The prevention message "SÉCHER ËNNERWEE" must be clearly visible on the layout of the condom packaging.
Successful applicants will win prizes; last year's winners received iPads and a smartwatch, among others. Ten submissions selected by the jury will be printed on condom packages and used in HIV prevention activities in Luxembourg throughout the year. All submissions received and accepted will be exhibited during the annual solidarity event on 1 December 2022, on the occasion of World AIDS Day, at Bâtiment 4 in Esch-sur-Alzette.
Further competition details are available online at: https://www.croix-rouge.lu/en/blog/preventive-art-art-on-condoms-2022-2/.
The "Art On Condoms" competition was launched in 2008 and has since been organised every second year.