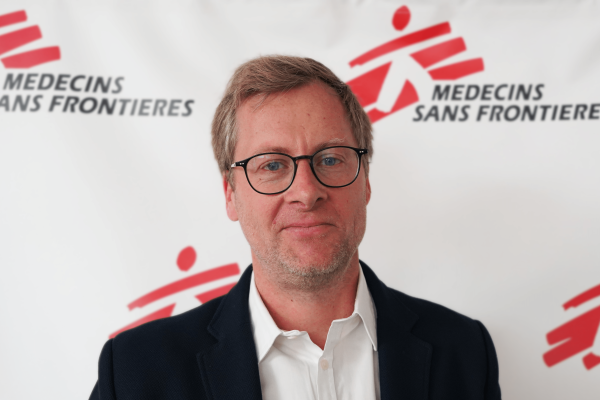 Thomas Kauffmann, Director General of MSF Luxembourg; Credit: MSF
Médecins Sans Frontières (MSF) Luxembourg has announced Thomas Kauffmann as its new Director General.
Before joining MSF Luxembourg, Thomas Kauffmann was head of ECPAT Luxembourg asbl, an organisation which fights against the sexual exploitation of children, for thirteen years. Holder of a Bachelor's degree in Economics from the Louis Pasteur University in Strasbourg, and a Doctorate in Anthropology from the University of Oxford, Mr Kauffmann shares the same values ​​carried by MSF.
Humanitarian emergency is not an abstract concept
With the multiplication of crises – climatic, nutritional, energy and economic – the risk of global fragmentation is particularly acute. For MSF, it is clear that borders do not prevent the spread of epidemics, nor the ecological disasters and waves of migration they cause. Similarly, the war in Ukraine has reminded Europeans that peace is not an immutable achievement and that the consequences of conflict go far beyond the front lines.
Thomas Kauffmann said: "it is becoming essential to come together and work collectively to improve the lot of everyone, because we can only respond together to global challenges". He continued: "Today, everyone's situation becomes interchangeable. In Pakistan, for example, we have local MSF staff who themselves have been affected by the recent floods; I mean those who assist others may one day need assistance, and that goes for all of us. The idea that one day we will personally experience a critical situation no longer seems improbable".
Know-how and anticipation
Beyond the humanitarian emergency response which remains the core of the organisation, Thomas Kauffmann wishes to highlight MSF's capacity for innovation and foresight. "I particularly admire the way our teams adapt according to the context. I am thinking in particular of the medical trains that we have put in place in Ukraine, and of all the logistical challenges that we take up every day with treasures of imagination. Another little-known aspect of MSF's work is that of anticipation: in Ukraine, to take this example, we prepared ourselves from the summer of 2021 for the deterioration of the situation. The MSF Emergency Pool is on permanent alert for latent crises, which risk exploding overnight all over the world. Whether it is for the situation in Ukraine or the nutritional crisis in Nigeria for which we have been alerting for months, it is a long-term work that is being done on the ground, as close as possible to local actors and populations; complementary work to that of our Luxembourg Operational Research unit (LuxOR), which evaluates the MSF programmes already in place for their continuous improvement or, as was done in Belgian retirement homes at the start of the COVID-19, to share its expertise in crisis management".
Mr Kauffmann concluded: "The instability that surrounds us should not paralyse us; on the contrary, it requires action, relying on solid players who are independent of any influence. The MSF movement is one of them, known and recognized, which I am happy to join today to raise awareness and deal with emergencies: whether they are topical or, as is the case with the situation in Yemen or for the Rohingya refugees in Bangladesh, of whom we no longer speak".