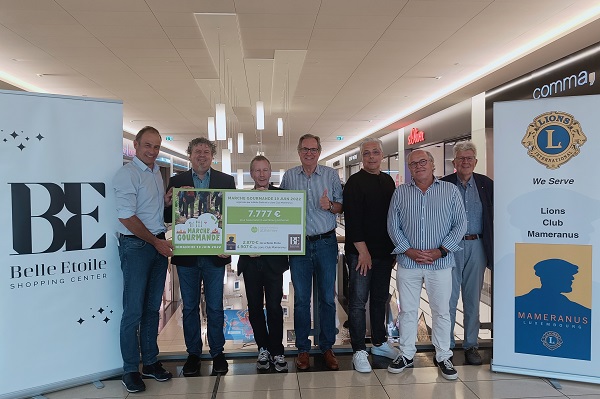 L-R: Manu Konsbruck (Belle Etoile); Denis Mancini (ALA); Pierre Kremer (Lions Club Mameranus); René Friederici (ALA); Jean Bohler (Lions Club Mameranus); Jacques Barthel (Lions Club Mameranus); Gerard Louis (Lions Club Mameranus); Credit: Cactus
Belle Etoile Shopping Center and Lions Club Mameranus recently raised €7,777 for the Association Luxembourg Alzheimer (ALA) through their traditional "Marche Gourmande" (gourmet walk).
This 7.5 km walk, which took place on Sunday 19 June 2022, was punctuated by five gourmet stops: aperitif, starter, barbecue, cheese and dessert.
More than 260 adults set off on this gastronomic walk, accompanied by around 50 children. In addition to the €10 paid by Belle Etoile for each adult registered with the ALA, Lions Club Mameranus decided to add a donation of €4,907 to reach the total sum of €7,777.
Through this donation, the ALA will be able to acquire medical-technical and didactic equipment for the care of its beneficiaries.