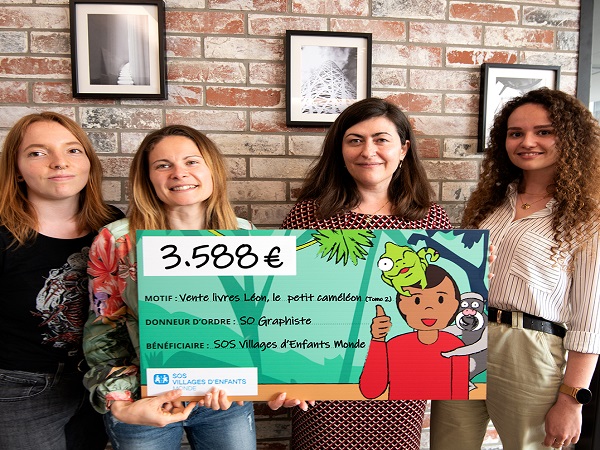 Credit: SOS Villages d'Enfants Monde
The SO Graphiste graphic design agency recently donated €3,588 to the Luxembourg-based non-profit organisation SOS Villages d'Enfants Monde.
The cheque presentation took place in the SO Graphiste studio in Esch-Belval. The sum collected comes from the profits from the sale of a book, whose story children contributed to before SO Graphiste illustrated it. This story is that of "Léon, le petit caméléon" (Leon, the little chameleon). After volume 1, created under the leadership of Sophie Ensel, graphic designer and founder of SO Graphiste, and the many children and parents who joined her online during lockdown, volume 2 was born.
A year ago, the small, award-winning team of SO Graphiste held online writing workshops for children. In this second volume, Leon, the little chameleon has a new friend, Gaspard, but it is the same values ​​of friendship, sharing and resilience that are at the heart of this new adventure full of surprises and humour that children can read in French or Luxembourgish.
Sophie Ensel and her collaborators, Audrey Weiss and Wendy Untersinger, presented the cheque to Sonia Dos Santos, Events and Sponsorship Officer at SOS Villages d'Enfants Monde, emphasising the role of young authors and thanking all the goodwill thanks to which this little chameleon came to life and became the mascot of many children. They expressed their delight that this project benefited other children around the world, including vulnerable children supported by SOS Villages d'Enfants Monde through its development and emergency aid projects.
Sonia Dos Santos congratulated and thanked the SO Graphiste team for this initiative and for its other generous actions undertaken over the past year to support SOS Villages d'Enfants Monde, whether it be a solidarity video created for the non-profit's campaign "Join Us!" or the production of digital greeting cards.