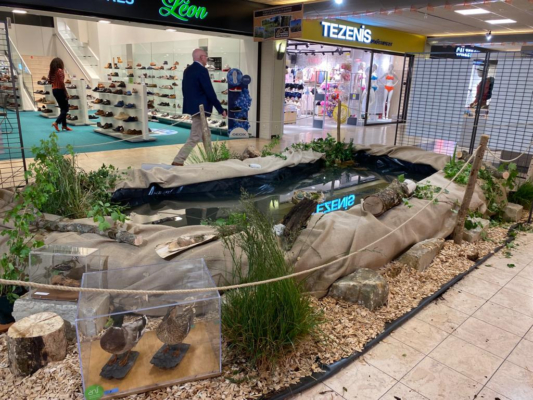 Credit: Fondation Hëllef fir d'Natur
On the occasion of the 40th anniversary of the Hëllef fir d'Natur Foundation, an immersive exhibition through the biotopes is organised from Thursday 19 May until Saturday 4 June 2022 at the Belle Etoile shopping centre.
The exhibition will offer visitors the opportunity to become an explorer of nature through four biotopes: the forest, the orchard, the pond and the meager lawn and its stone walls. In addition, two large screens will show reports on the foundation's nature reserves.
A virtual journey through the country's ecosystems, at the heart of biodiversity.
Two augmented reality headsets at the exhibition will allow to move around in several nature reserves. Sight and hearing will immerse the visitor through ecosystems where nature reveals itself.
Support the foundation for the acquisition of land to expand the Hangebierg nature reserve.
The Hangebierg is visible from afar in the loop of the Moselle between Grevenmacher and Machtum. It forms the striking rock formations of the Kelsbach nature reserve.
As part of the "Life Orchis" project, the Foundation has acquired numerous plots there with a total area of five hectare. The rock formations and the old walls of vines, witnesses of cultural history, are now visible again. The surfaces are developed into structure-rich calcareous lean grasslands, which provide habitat for many animal and plant species.
A donation tree has been specially built for this purpose and for each donation made at the stand, a leaf will be placed on the branches.
One-hour guided tour for cycle 3 & 4 school classes
On the theme, "discover - live - understand nature", one Wednesday 1 June 2022, at 09:00, 10:30 and 14:00, and on Thursday 2 June 2022 at 09:00 and 10:30, one-hour long guided tour for cycle 3 & 4 school classes is organised.
Schoolchildren will observe the four habitats of the exhibition and will discover which animals and which plants live there. They become active and, through different nature discovery games, they will learn about ecological relationships as well as animal survival strategies.
Registrations for a guided tour with Sonnie Nickels, head of Environmental Education and Sustainable Development at natur&ëmwelt asbl is available via tel.: 31 30 40
40 years of the Hëllef fir d'Natur Foundation
The foundation was created in 1982 and is celebrating its 40th anniversary this year. It owns 1,650 hectares of nature reserves in the Grand Duchy. Supported by its 25 experts, the foundation has highlighted 40 priority reserves of high ecological value throughout Luxembourg through its topoguide and the discovery videos. One of the main objectives of the foundation is the acquisition of land with high ecological value through donations or crowdfunding. However, the protection of the environment is not limited to the acquisition and management of nature reserves, raising awareness is an equally essential objective, with the fact of informing the public and public bodies about safeguarding the nature and biodiversity.