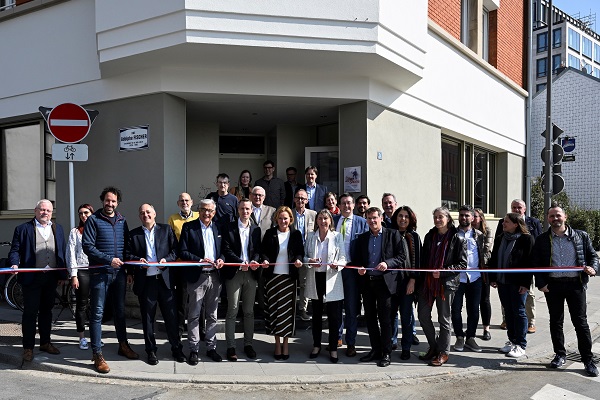 Credit: VdL Photothèque / Charles Soubry
Friday 25 March 2022 marked the inauguration of a new reception structure for marginalised people and furnished rooms at 24 Rue de Hollerich in Luxembourg-Gare.
Reception structure
Managed by local non-profit organisation Stëmm vun der Strooss, the "Saxophone" cafe-turned-reception structure offers people in difficulty a place to take shelter, rest, warm up, use sanitary facilities, eat and drink.
The reception structure is located on the ground floor of the building and completes the social offer already existing in the district. It consists of a living room with a rest area which is open Monday to Friday from 12:30 to 16:00. Self-service meals and drinks (sandwiches, hot soups, coffee, tea) are available free of charge here. Moreover, the presence of dogs and the consumption of alcohol on site are allowed. It also features a "Kleederstuff", a room used for the distribution of second-hand clothes to people in need. This space is accessible by appointment only and two people can be accommodated at the same time.
These two parts accessible to the public each have an individual entrance located on Rue de Hollerich. At the rear, they are interconnected by an area which includes a back-kitchen, an office, changing rooms and separate washrooms for staff and visitors. The staff area has a separate entrance via Rue Adolphe Fischer, which is also used for deliveries.
Speaking to Chronicle.lu, Alexandra Oxacelay, Director of Stëmm vun der Strooss, explained that the non-profit had approached the City of Luxembourg (Ville de Luxembourg - VdL) about the availability of an additional location for its customers since the existing facilities in Luxembourg-Hollerich were becoming overcrowded. Ms Oxacelay added that the non-profit had specifically sought a space where visitors could consume alcohol and feel more comfortable; the new facility is smaller and more intimate than the one at 7 Rue de la Fonderie.
Alexandra Oxacelay added that since the "Saxophone" centre opened its doors at the end of January 2022, the non-profit had noticed "a new type of customer": whilst the rest areas were aimed at people living on the streets, they soon became a place also for the "working poor", people who were working at night and had nowhere to sleep during the day. In this context, Ms Oxacelay lamented that the "population changes [and] problems grow quicker than solutions arrive".
She added that the Russia-Ukraine war, like the COVID-19 pandemic, had put additional pressure on the non-profit's staff, volunteers and customers. Moreover, the team is growing and they will soon open a new building in Sanem. Such developments "bring a new dynamic and changes into the organisation", which in turn will have an impact on customers.
She also noted that Stëmm vun der Strooss is currently in direct contact with Ukrainian refugees having arrived in Luxembourg. "They are treated the same as all the others", she said, noting that they had access to the sanitary facilities and medical treatment on offer. The non-profit also serves as an intermediary, putting volunteers in contact with other organisations where their help might be needed.
Furnished rooms
The former "Saxophone" cafe also houses new furnished rooms, managed by the Luxembourg Red Cross. These rooms are located on the upper floors of the building, with a separate entrance providing access to the stairwell. In total, there are nine furnished rooms, with common sanitary facilities and a kitchen, which can accommodate a maximum of twelve people. The bedrooms and sanitary rooms are organised in such a way as to allow the creation of separate living units of a larger size, to accommodate a family, for example, while guaranteeing a certain intimacy. A common roof terrace, accessible by the stairwell, is available to tenants of the furnished rooms.
The total cost of this construction / renovation project amounted to €2,287,996.33 (including fees and taxes), with the furnished rooms subsidised by Luxembourg's Ministry of Housing (up to a maximum of 75% of the voted estimate).