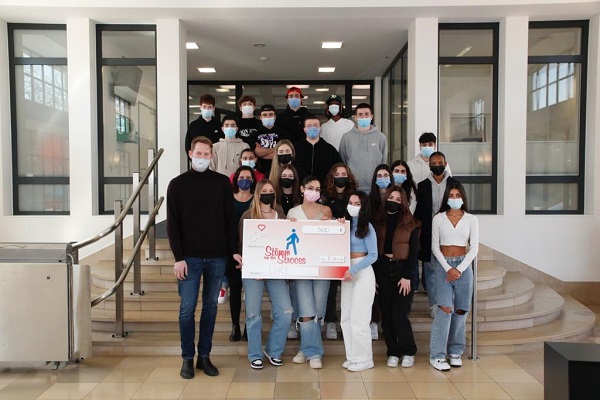 Credit: Stëmm vun der Strooss
Fifth-year (3ième) pupils of Lycée Hubert Clément in Esch-sur-Alzette recently raised €500 for Stëmm vun der Strooss, a non-profit organisation which supports homeless people and vulnerable members of Luxembourg society.
On the initiative and under the guidance of their teacher Sarah Panteghini, these young people, who took the elective course "Bénévolat" (volunteering), organised a football match between teachers and pupils on the last day of classes before the Christmas holidays. Ahead of the match, they launched a betting game to collect money to be donated to Stëmm vun der Strooss.
Another fundraising project saw the pupils sell croque monsieurs and cakes inside their school on the day of the game.
At an official donation handover on Wednesday 9 March 2022, the pupils of Lycée Hubert Clément presented a cheque for €500 to Bob Ritz, Communications Officer of Stëmm vun der Strooss. This meeting was also an opportunity to introduce the pupils to the activities of the non-profit and the different forms of volunteering it offers.
Sarah Panteghini and Bob Ritz have already begun discussing future projects.