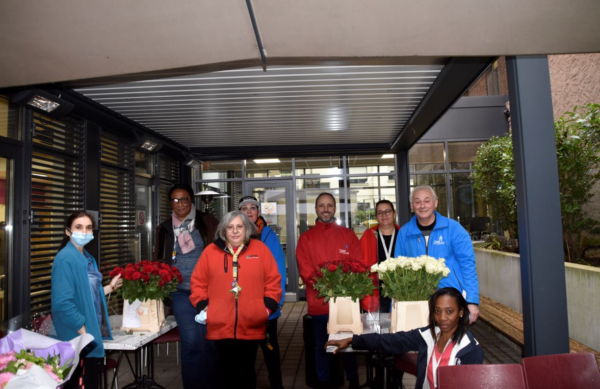 Credit: Majany Foundation / Stëmm vun der Strooss
On Monday 14 February 2022, the Majany Foundation donated 440 roses to Stëmm vun der Strooss, a Luxembourg non-profit organisation which supports homeless people and vulnerable members of society.
Fourth year in a row, the Majany Foundation has donated roses to the Stëmm on the occassion of Valentine's Day. This year, 440 red roses were distributed in the association's social restaurants in Hollerich and Esch-sur-Alzette, in the vocational rehabilitation workshops Caddy and Schweesdrëps, and in the Kanner Stëmm service.
Majany Foundation, whose administrative management is run by the King Baudouin Foundation, made it possible to offer roses to both the disadvantaged people who use the association's various services and the 150 people working in the vocational rehabilitation workshops.
"Offering a rose to a loved one is a gesture of great emotional value and I am happy that I am able to give a rose to my wife," shared one of the person in need.
Alexandra Oxacelay, director of Stëmm vun der Strooss said: "I never get tired of it because every time it brings smiles and emotions to those that society too often tends to forget and ignore."