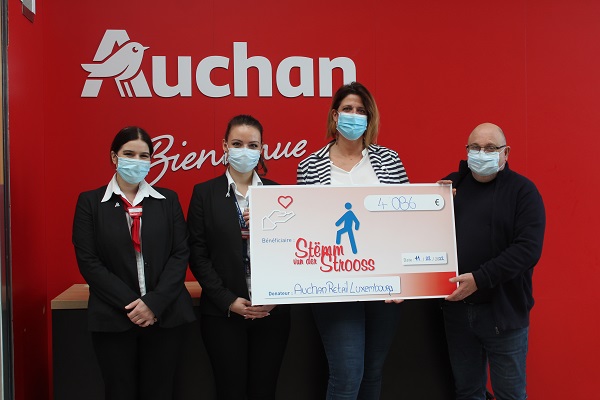 Credit: Stëmm vun der Strooss
Auchan Retail Luxembourg has raised over €4,000 to support Stëmm vun der Strooss, a local non-profit organisation that supports homeless people and vulnerable members of society
The close partnership between Auchan Retail Luxembourg and Stëmm vun der Strooss has existed since 2009. As every year, Auchan set up a stand in its hypermarket in Luxembourg-Kirchberg during Christmas 2021 to raise money for the non-profit. Customers could have their presents wrapped and make a donation to Stëmm vun der Strooss. Auchan collected a total of €4,086 in this way.
On Friday 11 February 2022, Marc Guezurian, Director of Auchan Kirchberg, handed over a cheque for this sum to Alexandra Oxacelay, Director of Stëmm vun der Strooss. The meeting took place at the Auchan Hypermarket and was an opportunity to exchange views on the development of the Caddy 2 project, in which Auchan plays an important role. For many years, Auchan and Stëmm vun der Strooss have been working together in the fight against food waste and to help disadvantaged people.
With the support of Auchan, every year Stëmm vun der Strooss processes 125 tonnes of food, provided free of charge by Auchan Hypermarkets and Drives, into dishes, soups, juices, sandwiches and more in its vocational reintegration workshops. These meals are then served in the non-profit's social restaurants in Luxembourg-Hollerich and Esch-sur-Alzette. Some of the food is also distributed to third party organisations in Luxembourg City.
With the new Caddy 2 project in Esch-Sanem, the cooperation will take another step towards sustainability. In the building in the activity area (5 um Woeller), 50 long-term unemployed young people in difficulties and former drug and alcohol addicts will process 500 tonnes of food that otherwise would not have found a buyer. After processing, this food will be redistributed to those in need and, as is already the case, used in the social restaurants at 7 Rue de la Fonderie in Luxembourg-Hollerich and 21 Rue de l'Eglise in Esch-sur-Alzette.
The funding phase is still ongoing and Stëmm vun der Strooss is appealing to all donors who might be interested in this social, ecological and economic project. A list of the material needed is available on the non-profit's website: http://don.stemm.lu:4200.