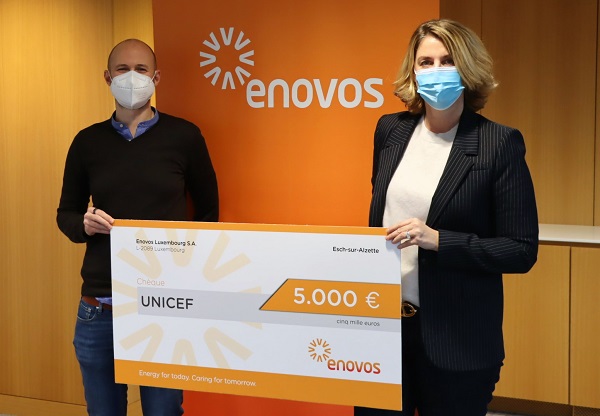 Credit: Enovos
Luxembourg energy supplier Enovos has donated €5,000 to the humanitarian non-profit organisation UNICEF Luxembourg to support the COVID-19 Vaccines Global Access (COVAX) initiative.
As a long-standing partner of UNICEF Luxembourg, Enovos recently presented a cheque for €5,000 to the humanitarian non-profit in order to support COVAX, a global initiative which brings together various actors such as the World Bank, the World Health Organization (WHO) and UNICEF with the aim of ensuring equitable access to COVID-19 vaccines wordwide.
Through COVAX, UNICEF is working with vaccine manufacturers as well as governments for the purchase but also the transport, logistics and storage of COVID-19 vaccine doses. The COVAX initiative is considered all the more important since the distribution of vaccine doses is not equitable and largely to the disadvantage of poorer countries. While developed countries are experiencing high vaccination coverage, many countries like Ethiopia, Syria and Madagascar not only suffer from a lack of vaccines, but often lack the necessary infrastructure for effective distribution.
"Through COVAX, more than a billion doses have been sent to 144 countries. This is a good start, but the work that has gone into this important step is only a reminder of the work that remains to be done", explained Sandra Visscher, Director of UNICEF Luxembourg.