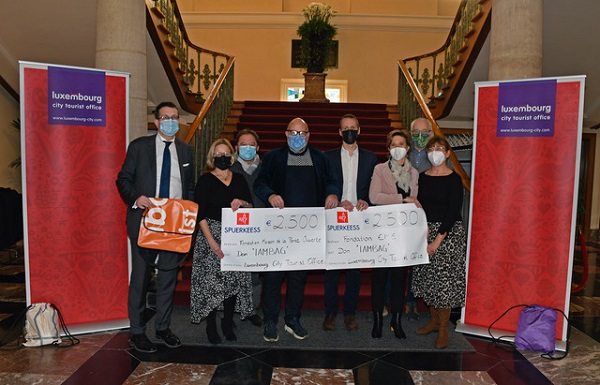 L-R: Maurice Bauer, FMPO; Myriam Mersch-Zimmer, FMPO; Tom Bellion, LCTO; Marc Angel, LCTO; Serge Wilmes, VdL; Dominique Hansen, Fondation EME; Patrick Seiler, Repères Communication; Anne Wolter, Fondation EME; Credit: Photothèque de la Ville de Luxembourg / LCTO
The Luxembourg City Tourist Office (LCTO) has donated a total of €5,000 to two Luxembourg-based foundations; the money was raised as part of the "IAMBAG" philanthropic project.
The social and eco-responsible project "IAMBAG", launched by the LCTO in May 2021, aimed to upcycle advertising tarpaulins and other promotional materials into backpacks and shoulder bags. Owing to a fruitful collaboration with the communications agency Repères Communication and the therapeutic and sheltered workshops of the ATP asbl, the idea materialised quickly.
The project, which ended in December 2021, proved successful, not only among residents and visitors to the LCTO reception, but also among personalities from the political and cultural world. A total of 270 unique pieces were sold.
In order to underline its social commitment, the LCTO had decided from the start to donate, in equal shares, the financial surplus resulting from sales to organisations recognised as being of public utility. As such, the LCTO presented cheques, each worth €2,500, to the following Luxembourg foundations: Fondation EME, which is committed to bringing well-being, inclusion and dignity to vulnerable people through music; Fondation Maison de la Porte Ouverte (FMPO), which works in the interests of children, adolescents, women and men in distress through reception and consultation centres.
The cheque presentation took place at Luxembourg City Hall in the presence of the following representatives: Serge Wilmes, First Alderman of the City of Luxembourg (Ville de Luxembourg - VdL) municipality; Marc Angel, President of the LCTO; Tom Bellion, Director of the LCTO; Dominique Hansen, President of Fondation EME; Anne Wolter, Director of Fondation EME; Maurice Bauer, Chairman of FMPO; Myriam Mersch-Zimmer, Managing Director of FMPO; Patrick Seiler, Director of Repères Communication.
The representatives of the two foundations thanked the LCTO and all the partners associated with this project for this generous gesture.