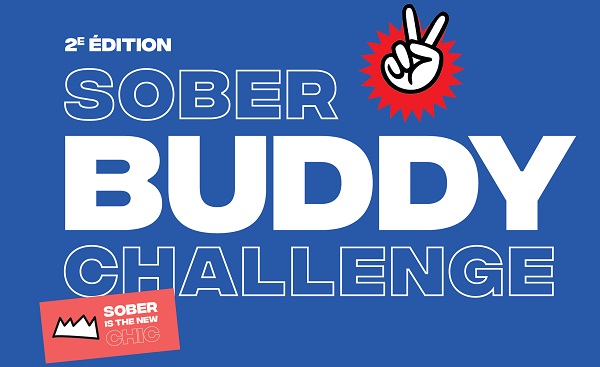 Credit: Fondation Cancer
Fondation Cancer has announced that it is launching the second edition of its "Sober Buddy Challenge" in Luxembourg for January 2022.
After the success of last year's first edition, Fondation Cancer is offering Luxembourg residents another opportunity to take on the Sober Buddy Challenge. The goal remains the same: not to drink any alcohol from 1 to 31 January 2021. Alone or with the "buddy" of their choice, participants will be able to count on the support of a dedicated web application throughout the month of January 2022.
In 2021, more than 2,500 people took up this challenge and 99% of participants surveyed said that they were ready to try the experience again. Better quality of sleep, a radiant complexion, savings and weight loss were among the benefits listed by those having completed last year's challenge.
In fact, 48% of participants said they slept better, 32% reported weight loss, 27% said they concentrated better and 85% said they would change their habits.
"Whether to party, to accompany a good meal or just to unwind after work, the opportunities for having a drink are so plentiful that you don't even think about it. The Sober Buddy Challenge allows you to take a break from alcohol, become aware of your consumption and make a conscious choice for your health", explained Lucienne Thommes, Director of Fondation Cancer.
Inspired by other sobriety challenges such as Dry January, the aim of the Sober Buddy Challenge is to promote a public health message encouraging the Luxembourg population to rethink, slow down or even stop their alcohol consumption. The messages are intended to be informative, motivational and benevolent to encourage reflection without rushing or lecturing.
Fondation Cancer recalled that alcohol is the second most overlooked risk factor for cancer. Alcohol is responsible for the development of seven cancers: colorectal cancer, breast cancer (in women), laryngeal cancer, throat cancer, liver cancer, esophageal cancer and mouth cancer. Although the risk increases with the amount consumed, there is no threshold below which alcohol consumption is safe.
Registrations are now open for the Sober Buddy Challenge via the web application: sober-buddy.lu.
Participants can choose to invite a "buddy" (friend, family member, co-worker, etc.) with whom they would like to complete the challenge. Throughout the month of January, participants will be invited to connect to the web application to complete their calendar and thus monitor their progress. Every day, they will find tips and information about alcohol. They can also use the web application to send encouraging messages to their buddy.