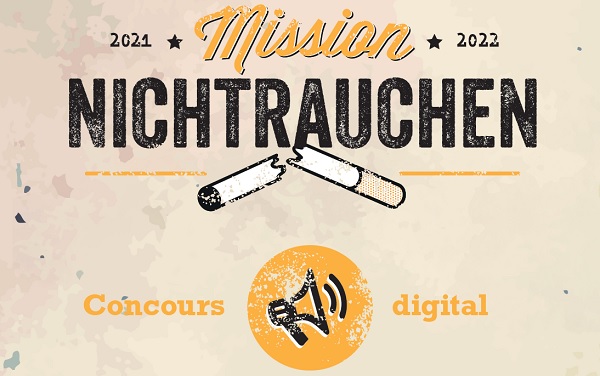 Credit: Fondation Cancer
Fondation Cancer has announced that it is launching the 23rd edition of its "Mission Nichtrauchen" anti-smoking competition in Luxembourg schools.
The foundation noted that many young people start smoking as young as 14 years old - a period of their lives in which prevention plays a key role. In its fight against smoking, Fondation Cancer is launching the 23rd edition of the Mission Nichtrauchen competition.
Like every year, the competition is open to students in the first four years of secondary education who agree to remain "non-smokers" for six months. Secondary school teachers wishing for their students to take part can register their class until 18 October 2021 inclusive at www.missionnichtrauchen.lu. The competition will run from 8 November 2021 to 5 May 2022.
Each month, classes will be invited to complete an online quiz to assess their knowledge of various smoking-related topics. The aim is to encourage constructive exchanges between students and teachers.
"Our goal remains the same and the Mission Nichtrauchen competition makes an essential contribution to it: a tobacco-free generation so that the young people of today are not the smokers of tomorrow", explained Lucienne Thommes, Director of Fondation Cancer.
Since the launch of this initiative, almost 60,000 secondary school students in 3,000 classes have pledged not to smoke.