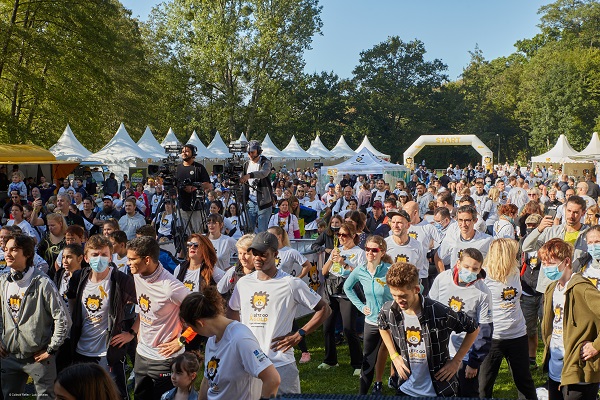 Credit: Collectif Reflex
The fourth edition of the Lëtz Go Gold charity race took place in Luxembourg on Saturday 25 September 2021 and raised a record amount of €420,220 for the benefit of chidhood cancer research.
In addition to breaking last year's record amount of €300,000, this year's event attracted a record number of participants: 906 runners (and 90 teams) took part in this fourth edition.
The race, organised by Fondatioun Kriibskrank Kanner, a Luxembourgish charity supporting children with cancer, took place near the ponds of the Kockelscheuer ice rink, in the presence of by Corinne Cahen, Luxembourg's Minister for Family Affairs and Integration, and Professor Gilles Vassal, President of the Innovative Therapies for Children with Cancer (ITCC) consortium.
Participants could choose from a 1.5 km, 5 km or 10 km route, along which they could find various musicians, artists and supply stands. After a collective stretching session and the traditional minute of silence in tribute to young patients struggling or having fought against cancer, the cheque for €420,220 was handed over to ITCC President Prof. Gilles Vassal, who noted: "Thanks to you, we are speeding up research. It is together that we can cure more [people] and better. [Along] with all the doctors and researchers who work for this cause in Europe, I say thank you".
This year again, the race was livestreamed in order to give everyone, especially families or hospitalised patients as well as teams in different European countries, the possibility of following the highlights live.
Anne Goeres, Director of Fondatioun Kriibskrank Kanner, commented: "This edition is exceptional thanks to its record result and above all thanks to the many donors and participants who have all mobilised for our young patients. We would like to thank all of the sponsors and partners, without whom this event would not be possible and look forward to seeing you for the fifth edition of the race, which will take place on Saturday 24 September 2022".