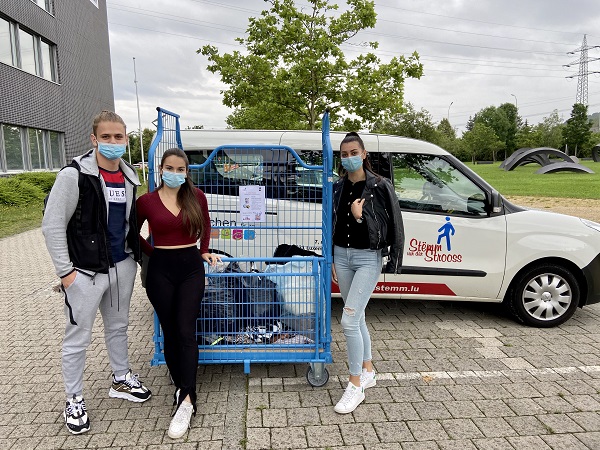 Credit: Stëmm vun der Strooss
Pupils at the Lycée Mathias Adam (LMA) in Pétange recently donated clothes to Stëmm vun der Strooss, a Luxembourg non-profit organisation which supports homeless people and vulnerable members of society.
Penultimate year (deuxième) pupils at LMA were asked to carry out a project to end the school year. They decided to use this opportunity to help those in need by setting up an initiative to help homeless people in Luxembourg. This project, named "2 The Rescue", consisted in collecting clothes for Stëmm vun der Strooss, a non-profit which helps disadvantaged people in many ways. One such way is collecting clothes in good condition, sorting and washing them and then redistributing them for free to people in need.
To carry out their project, the LMA pupils created an information poster on their idea and a list of the things homeless people need most. For one week, a large trolley was placed in one of the school buildings so that all pupils and staff members could participate in the project.
Following this collection, the pupils contacted Stëmm vun der Strooss to organise the transport of the clothes to the "Kleederstuff" in Luxembourg-Hollerich. In total, five large bags were collected and donated to the organisation.