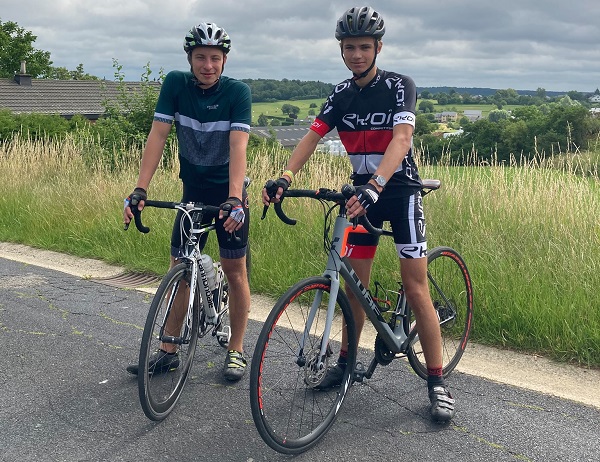 Isidore Ponsar and Guillaume Swings; Credit: D'1 b0ut à l'autre
After a tour of Belgium in 2020 and collecting €8,500 for the Belgian-Luxembourg non-profit organisation JUDDU, two young cycling enthusiasts from Arlon are getting back in the saddle for another good cause.
Isidore Ponsar and Guillaume Swings, the two 17-year-olds behind the "D'1 b0ut à l'autre" project, will cover 1,1000 km by bicycle in eleven days. The objective is to once again help JUDDU support Senegalese children's education in Pikine. Their first journey across Belgium last year raised €8,500 for the construction of a school in this city, located in the suburbs of Dakar.
"In 2020, we travelled 766 km. The generosity of sponsors and private sponsorships during this first edition gave us wings for the future,"explained Guillaume.
Their next journey, starting on 18 August 2021, will see Isidore and Guillaume travel from Marseille to Arlon.
Accompanied by sponsors such as Decathlon, which is providing the young cyclists with gravel bikes, Kréapink, Noosphere, Gil & Julie, Kesseler and Vino Terre Happy, the young cyclists are now looking for additional partners. This year, Clearstream is taking part in this new adventure. "The participation of the sponsors allows us to finance our overnight stays, the train trip and the purchase of equipment for the trip", added Isidore.
These costs represent a maximum of 20% of the total amount collected at the end of the project; the rest will be donated to JUDDU asbl, whose mission is to sponsor out-of-school children from the Dakar slums to give them an eduaction. "It was obvious for us to support them. Beyond the sporting challenge, we wanted to give meaning to our project", noted Guillaume.
Since 1989, JUDDU asbl has been working to offer disadvantaged children the chance to open their minds to the world and to have access to training, reading and writing. The non-profit now finances the education and educational monitoring of 96 disadvantaged children in Pikine.
Departing from Marseille, the first days of this new challenge will be quite mountainous with more than 1,000 m of elevation changes per day through the mountains of the Luberon. The young cyclists will then head for Mont Ventoux, the Rhône, Lake Geneva, Burgundy and Lake Der. The journey will continue with a visit to the headquarters of JUDDU Luxembourg in Mondercange before ending at the JUDDU Belgium headquarters in Arlon. If sanitary measures allow it, the duo will invite interested parties to join them for the symbolic last 40 km.
Those wishing to support this cause can make a donation online at https://www.leetchi.com/c/d1-b0ut-a-lautre-5d61pqdl or via bank transfer either to the account of D'1 b0ut à l'autre: BE06 0636 8968 8122 or, for all donations over €40 with a tax certificate, that of JUDDU: BE20 1450 5423 2456 (BIC: GEBABEBB).