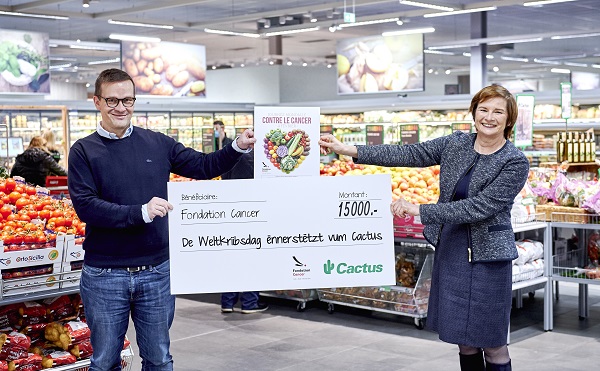 Credit: Cactus
Luxembourg supermarket company Cactus has presented Fondation Cancer with a cheque for €15,000.
Societal commitment is one of the eight pillars of the Cactus brand. Aware of its social responsibility, Cactus actively supports several non-profit associations active in Luxembourg, including Fondation Cancer.
Founded in 1994 in Luxembourg, Fondation Cancer has worked for more than 25 years in the fight against cancer. Its day-to-day missions focus on three pillars: prevention, support for patients and their families and funding for research projects.
Through World Cancer Day, held annually on 4 February, Fondation Cancer can raise greater awareness among the entire population. As a long-time partner of the association and keen to promote a balanced diet, the Cactus group participated in this year's World Cancer Day by donating €2.50 for every customer who purchased at least five fruits or vegetables on this symbolic day to Fondation Cancer.
The initiative allowed Cactus to donate €15,000 to the association. Marc Hoffmann, Marketing Director of Cactus S.A, presented the cheque to Lucienne Thommes, Director of Fondation Cancer.
Cactus supermarkets confirmed they will continue this initiative in 2022.