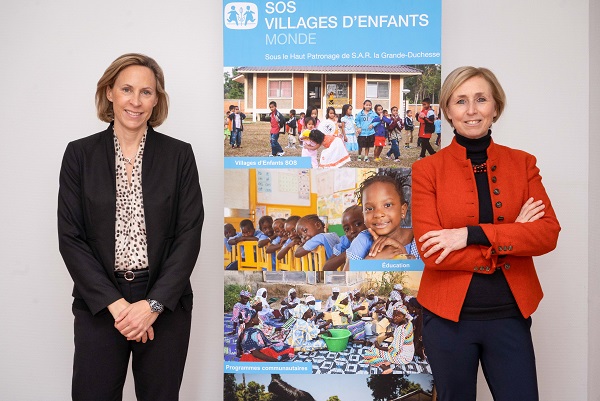 L-R: Anouk Agnes, new President of the Board; Marjolijne Frieden, outgoing President; Credit: SOSVEM
Luxembourg non-profit association SOS Villages d'Enfants Monde has announced the appointment of Anouk Agnes as the new President of its Board of Directors.
At the start of 2021, Anouk Agnes replaced Marjolijne Frieden, who decided, after seventeen years in the association's ranks and ten years at the helm, to step down from the board for reasons of good governance. Ms Agnes has been a board member since 2019.
In 2010, Marjolijne Frieden succeeded Barbara François, founding member and first President of SOS Villages d'Enfants Monde board. Her many field visits to partner countries of the association, including Guinea, Niger, Mali, Senegal, Mauritius, Tanzania and Russia, strengthened her conviction that "each child should be able to grow up in a loving family". As board President, Ms Frieden supported the actions included in the framework agreements signed in 2010 with Luxembourg's Ministry of Foreign and European Affairs, which marked a turning point in the life of SOS Villages d'Enfants Monde. Involved in the bodies of the world organization, she was a member of the Senate of SOS Children's Villages International from 2008 to 2012.
Her successor, Anouk Agnes, has served as economic advisor to the Ministry of State since 2019, after having worked in the Ministry of Finance and the investment funds sector. Beyond the world of finance, Ms Agnes started her career working for a few months at the Permanent Representation of Luxembourg to the United Nations in New York, where she followed the debates on the Millennium Development Goals, goals which SOS Villages d'Enfants Monde holds so dear. She then worked for Lux-Development, where she managed, among other things, projects related to education and health in Namibia and then in the Balkans before intervening in Manila on behalf of the Asian Development Bank.
With a solid knowledge of the field and that of international cooperation, Anouk Agnes will be keen to continue the work of the association that she has known from childhood through her mother, Liette Mart-Weber, an early collaborator of SOS Villages d'Enfants Monde (formerly SOS-Interfonds).
Marjolijne Frieden will remain a member of the General Assembly of SOS Villages d'Enfants Monde.