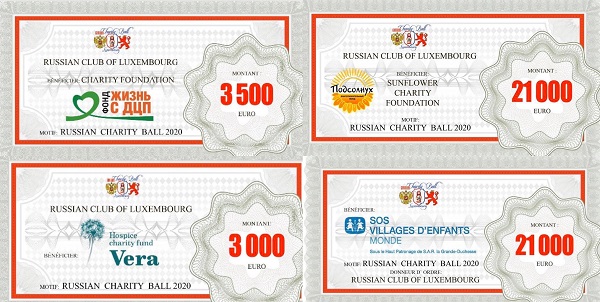 Credit: Russian Club of Luxembourg
The Russian Club of Luxembourg recently organised an online reception in honour of the sponsors and patrons of the 9th Russian Charity Ball in Luxembourg, which was held on 18 January 2020 at Cercle Cité and raised €48,500 for charity.
In light of the ongoing COVID-19 pandemic, the presentation of cheques to the charitable foundations for which donations were collected during the ball took place in the form of a Zoom video conference.
Participants in this virtual cheque presentation included the Ambassador of Luxembourg in Russia Jean-Claude Knebeler, Russian actor Yevgeny Stychkin, Luxembourgish journalist Nathalie Reuter, a representative of the ball's general sponsor MMK Group, Alexey Ivanov, as well as representatives of the foundations assisted by the Russian Charity Ball: SOS Children's Villages in Russia, which supports children in difficult situations, the Sunflower Foundation ("Podsolnuch"), which supports children with immunodeficiency and autoimmune disorders, Life with Cerebral Palsy, which helps children with cerebral palsy, and the Vera Hospice Fund.
While former Deputy Prime Minister and patron of the Russian Charity Ball, Etienne Schneider, was unable to attend the video conference, he sent a video with words of encouragement to all those who have been working for a good cause. He stated: "For me, the ninth edition of the Ball was unique since it was the last time [under] my patronage. I thank you on behalf of the Russian and Luxembourgish children whom you have helped. I hope we will see you at the 10th Russian Charity Ball".
This year's ball Russian Charity Ball managed to raise €48,500. During the past nine years, the Ball has raised a sum of €422,500 for its chosen charities.
Varya Avdyushko, President and Founder of the Sunflower Fondation, commented: "Thanks to the organizers and the guests of the Ball, in the past three years alone, we have managed to pay for the treatment for 88 young Foundation patients! It is only because we are ready to support each other, regardless of the hard and painful times we are going through, that we can overcome all pain and hardship".
Vsevolod Yampolsky, President of the Russian Club of Luxembourg, added: "The Ball is the most important event organised by our club. The Ball is not only [a form of] entertainment but above all a charitable event. We organise a "silent auction" and a charitable lottery. We donate the funds collected to charitable funds".
The video conference closed with a live broadcast of a concert by musicians Alexei Stychkin and Daniil Ars, held in the Philharmonie de Liège in Belgium for this occasion.