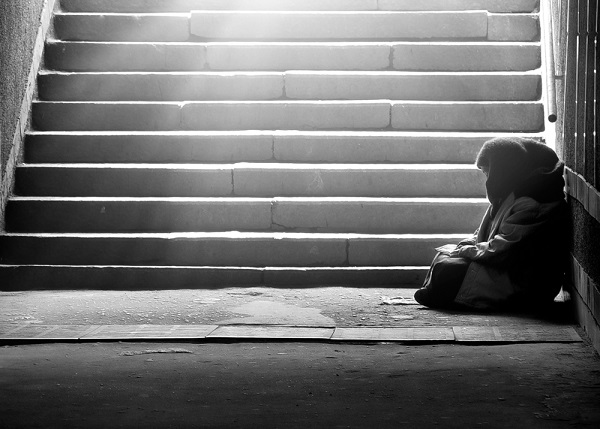 In response to the current restrictions in Luxembourg aimed at limiting the spread of COVID-19 (coronavirus), associations providing services to the homeless and disadvantaged have been forced to look for rapid and innovative solutions to be able to continue their work to protect these vulnerable people.
For its part, Stëmm vun der Strooss, a Luxembourgish NGO that works for the social and professional integration of disadvantaged people, has been operating in a limited capacity since Monday 16 March 2020. Over the past week, the association has shifted its focus to balancing the continued provision of meals to its beneficiaries and the safety of its employees and volunteers.
In this context, the Stëmm vun der Strooss social restaurants in Esch-sur-Alzette and Hollerich have been serving meals in trays left outside the door, thus adhering to government measures regarding safety distances. Other services such as showers and the "Kleederstuff" (a service providing clean, second-hand clothes to beneficiaries) have been temporarily suspended, although the association has stated that it hopes to get these up and running again as soon as possible, while respecting current restrictions. The Schweesdrëps therapeutic centre has also been closed since last week, although the Caddy workshop remains open to prepare sandwiches which will be redistributed in the Esch and Hollerich restaurants and eventually to the ten services with which the association works in Luxembourg City.
In a telephone interview with Chronicle.lu, Alexandra Oxacelay, Director of Stëmm vun der Strooss, elaborated on some of the alternative services and measures put in place by the association during these especially challenging times. Ms Oxacelay explained that there had been an increase both in the number of meals being prepared and the number of people offering to help out. She added that the teams were still trying to find adequate solutions before asking volunteers to help put these in place.
Possible solutions aimed at reopening the showers and Kleederstuff while protecting Stëmm vun der Strooss employees and beneficiaries include distributing free clothing in front of the association's entrance and putting tables in place to distribute meals at a distance. Indeed, many beneficiaries have had no option but to wear the same clothes for over a week since the closure of these services. For these solutions to work, the association thus requires the help of volunteers who are willing to be in direct contact with vulnerable people who are likely to be carriers of coronavirus and be able to manage conflict situations. In her interview, Alexandra Oxacelay emphasised that the association needed volunteers who are "calm, positive [and] ready to be directly in contact with people in need, people who are sick". She added: "We don't have time to manage the volunteers, we have to manage the clients". The association is also currently seeking a cook to help in the kitchen; again this person should not be afraid of direct contact with vulnerable people.
Volunteers will be required to distribute clothing for free outside (one to five times per week, from Monday to Friday between 10:00 and 15:00) and to supply the stock by regularly bringing down the clothes from the cloakroom on the first floor to the table outside. Regarding clothing and meal distribution, people in need will be asked to serve themselves in small groups (i.e. three people at a time) and within five minutes, during which time others will remain in the queue. The association plans to set up a barrier to guarantee safety distances and volunteers will be provided with disposable gloves and protective masks. Indeed, Ms Oxacelay confirmed that the association received masks yesterday and that these have been distributed in the five houses.
Alexandra Oxacelay explained that while Stëmm vun der Strooss welcomes financial contributions throughout the year, the current financial need has not increased since the coronavirus outbreak. At present, the association is more interested in attracting committed volunteers, especially now that it may lose some of its social workers who are among those healthcare professionals required to sign up on the GovJobs website to help the government in the fight against coronavirus.
Although exact statistics regarding homelessness in the Grand Duchy are not available, this is certainly a very real and challenging issue, and one that has been made only more challenging by the coronavirus crisis and accompanying restrictions. In this context, the director of Stëmm vun der Strooss stressed that the current situation has been all the more difficult for the homeless and disadvantaged in Luxembourg, many of whom are already in poor health and lack access to adequate sanitation. Indeed, many cannot carry out proper hygiene practices such as hand washing due to a lack of facilities. This is one of the reasons why associations like Stëmm vun der Strooss are actively seeking ways to keep showers and other essential facilities open to those who need them.
Another challenge according to Alexandra Oxacelay, especially during these unprecedented times, is a lack of coordination between the various associations and services for the disadvantaged. She added that there has been "no time to call others" to find out what solutions they have found and what measures are being implemented. Nevertheless, Chronicle.lu understands that other associations like Caritas are currently negotiating with the Luxembourgish authorities to find alternative accommodation for the homeless, potentially in hotels as has been done recently in cities like London and for cross-border workers from the healthcare sector in Luxembourg. In addition, the "Wanteraktioun" initiative offering shelter to the homeless during the winter months has been extended by one month until the end of April.
Despite this increased pressure on an already challenging job, Alexandra Oxacelay assured that she and her teams will not resort to panic, instead they are focussed on actively pursuing practical solutions. She explained that ideally the association would have access to one big space where beneficiaries could sleep, get food and have access to a doctor but that for now, they were doing everything they could to protect and provide for those in need. She added that most of these people are used to standing outside all day and have been really grateful for the support they receive. In this context and with the weather slowly improving, the association is considering putting tables and chairs outside where beneficiaries can sit down and eat, while respecting the necessary safety distances.
Alexandra Oxacelay concluded by saying that it would be "superficial" for associations like Stëmm vun der Strooss to support the homeless and disadvantaged throughout the year and not now when these already vulnerable people are most at risk and most in need of assistance.
For more information on Stëmm vun der Strooss and how to support its activities, visit http://stemm.lu/en/. The head office is located at 7 Rue de la Fonderie, L-1531 Luxembourg-Hollerich and can be contacted via tel.: 490-260.