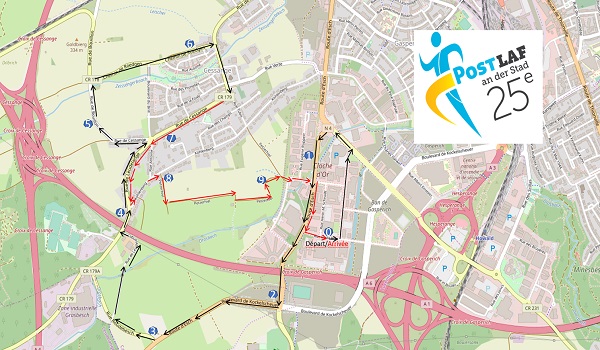 POST Luxembourg has announced that the 25th edition of "Postlaf", the first 10km urban race of the year, will be taking place on Sunday 15 March 2020 at 10:00 in and around the Cloche d'Or industrial zone in Luxembourg-Gasperich.
Organised by the Amicale POST Luxembourg, in close cooperation with the City of Luxembourg, the Postlaf is open to anyone who is at least 15 years old on the day of the race. Participants will be timed by a "Championchip" electronic chip.
The participation fee includes a pre-race warm-up, the use of changing rooms and showers, supplies during the race and a "Postlaf 2020" t-shirt.
Several prizes await participants, including a cinema ticket offered to every 25th runner in the final classification (1st, 25th, 50th, 75th, 100th, etc.).
Children can participate in two non-competitive "Lalux-Post4Kids Run" races (500m and 1km). Moreover, Caritas will be offering a creche service from 09:00 to 12:00 for children aged 2-8 who do not participate in the races (registration required).
Like every year, runners can cross the Caritas Luxembourg donor carpet and make a pledge or donate their chip after the race. The money raised will enable disadvantaged people in Luxembourg to develop themselves through sport.
Regarding transport, several roads are expected to be partially closed to traffic during this sporting event. However, a free shuttle service is available to and from the P+R Sud (Howald), P+R Kockelscheuer and Gare Centrale car parks.
Online registration is open until 28 February 2020.For more details, including the registration procedure, visit www.postlaf.lu.