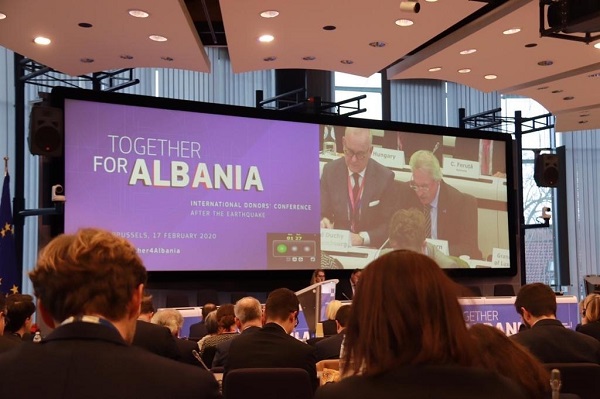 Luxembourg's Foreign and European Affairs Minister Jean Asselborn speaking at the International Donors' Conference for Albania; Credit: MAEE
In addition to the European Union (EU) Foreign Affairs and General Affairs Councils, Luxembourg's Minister of Foreign and European Affairs, Jean Asselborn, participated in the International Donors' Conference for Albania in Brussels on Monday.
The objective of the International Donors' Conference for Albania, convened jointly by the European Commission and Albania, was to coordinate the response of the international community and to mobilise resources to support the reconstruction efforts in Albania after the earthquake of 26 November 2019. This earthquake killed 51 and injured around 900 people, with almost 5,000 people having lost their homes.
Following the post-disaster needs assessment carried out jointly by the EU, the UN, the World Bank and the Albanian authorities, Luxembourg has decided to allocate additional emergency aid of €150,000 to UNICEF humanitarian efforts in Albania aimed at helping children affected by the earthquake. This involves the creation of child-friendly spaces, including psychosocial support for the affected children. This sum will be added to the €100,000 of emergency aid to the International Federation of Red Cross and Red Crescent Societies (IFRC) released by Luxembourg in November 2019.
Finally, Minister Asselborn recalled that Albania can count not only on Luxembourg's solidarity to support it in its efforts to rebuild the country after this earthquake, but also on its continued support for the rapprochement of Albania to the EU.