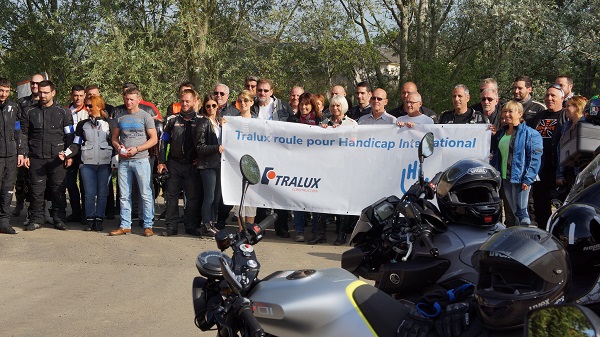 Credit: HI
Luxembourg-based construction company Tralux Construction presented Handicap International with a cheque for €4,000 last month.
In July 2019, around 40 Tralux Construction employees mobilised around the subject of road safety with a 250 km motorcycle tour of Luxembourg for the benefit of Handicap International.
Actively engaged in respecting safety policies on its construction sites, the construction company wanted to put this theme in the spotlight, but on the road this time, for the benefit of Handicap International. The NGO supports people with disabilities and vulnerable populations in 60 countries. In fact, the association has been carrying out road safety awareness programmes and assistance for the development of motorways for the past 20 years in order to avoid traffic accidents which are the leading cause of disability in some developing countries in Asia and Africa.
Managing Director of Tralux Construction, Franck Becherel, confirmed that this was the first step of a planned long-term partnership with Handicap International, as part of the company's corporate social responsibility (CSR) policy.
Between the collection from employees and the participation of the company, a total of €4,000 was donated to Handicap International for its activities in the Democratic Republic of Congo on 13 December 2019.