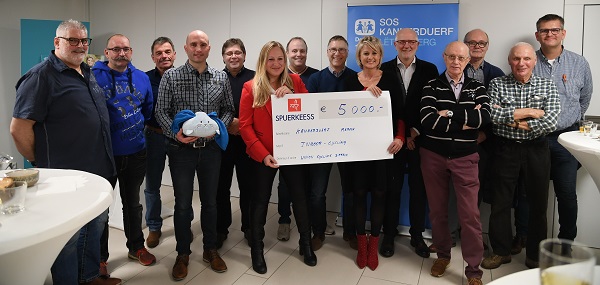 Union Cycliste Dippach fundraising; Credit: Charles Resier
Shortly before Christmas, the Union Cycliste Dippach presented the proceeds of its 7th edition of the "Charity Indoor Cycling" organised in November in Krounebierg in the form of a cheque for €5,000 to SOS Kannerduerf Lëtzebuerg.
At the presentation, club president, Henri Jungels, recalled the history and the development of the cycling club which has existed since 1935, with its 56 licensed riders, including four professional riders from the top league. As the club's chairman, he subsequently thanked once again all 153 cycle participants who were actively involved in this year's event, the local sports commission and all fund raising without which such a large event would not have been possible.
Cynthia Conzemius, administrative director at SOS Kannerduerf Lëtzebuerg, thanked the organisation for the generous donation and emphasised the need for such financial support. This money will be used to finance future-oriented projects for disadvantaged children in the children's village, where around 165 employees currently look after around 400 children who either reside in one of the houses or are cared for on an outpatient basis and for various reasons not can live with their families.