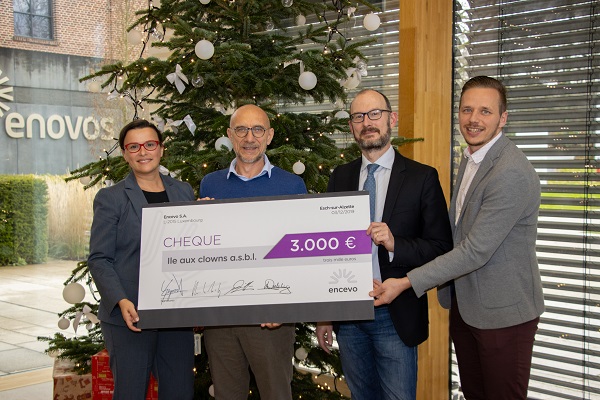 L-R: Rosa De Tommaso (Deputy Head of HR Encevo Group); Eric Anselin (Directeur Île aux Clowns); Claude Seywert (CEO Encevo Group); Christophe Quiring (Recruiter Encevo Group); Credit: Encevo
On Tuesday 3 December 2019, the Encevo Group presented a cheque for €3,000 to the Luxembourgish charity "Île aux Clowns" at the Encevo premises.
Encevo recently conducted a satisfaction and well-being survey of its employees. Each participation in this survey generated a donation to Île aux Clowns from the Group, ultimately raising the sum of €3,000.
Île aux Clowns is a non-profit organisation that aims to send professional clowns to hospitals to bring good humour, joy and smiles to children and senior citizens facing illness and loneliness. This donation will provide more than 100 hours of smiles.
The cheque presentation took place in the presence of Eric Anselin, director of Île aux Clowns, and Claude Seywert, CEO of the Encevo Group.