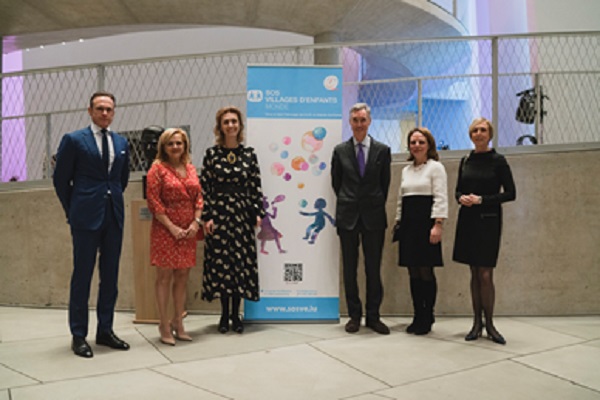 Prince Guillaume and Princess Sibillawith with (L-R) Alain Kinsch, Vice President of SOSVEM, Sophie Glesener, Director of SOSVEM, Corinne Cahen, Minister of Family and Integration, Marjolijne Frieden, President of SOSVEM; Credit: © Sven Becker
This year's SOS Villages d'Enfants Monde Gala Concert in Luxembourg, organised with the support of EY, raised proceeds for vulnerable children in Nepal.
The 44th SOS Gala Concert, held on the evening of Thursday 5 December 2019 at the Philharmonie, focussed on the theme of childhood. Indeed, the concert took place the day before Saint Nicholas' Day, which SOSVEM President Marjolijne Frieden described as "a special family moment".
The concert was also an opportunity for Ms. Frieden to highlight the association's mission of providing a warm and protective environment for young people who are deprived of it. She also discussed the populations which fell victim to the earthquakes of 2015 and who are still vulnerable four years later, as well as the sustainable actions developed by SOS Children's Villages Nepal and which SOSVEM is committed to support.
In a short documentary by Andy Lamesch, the audience was able to see the progress of the projects and see, in particular, a reconstructed community school with the help of Luxembourg's donors. He also presented stories of hope to show that after an emergency, it is essential to strengthen communities with long-term development programmes.
These optimistic words and images gave way to a colorful musical evening with, firstly, Tchaikovsky's Violin and Orchestra Concerto performed by the young US violinist Stella Chen, first-prize winner of the 2019 Queen Elisabeth Violin Competition in Brussels.
In the second half of the evening, the Orchestre Philharmonique du Luxembourg (OPL), under the direction of one of its former conductors, the Austrian Leopold Hager, played the music of Rimsky-Korsakov, including Scheherazade, a work based on the tales of "Thousand and One Nights". The orchestra led the audience towards this Eastern world dreamed by the magic of the sumptuous orchestrations and the "thousand and one instrumental glitters" of the symphonic suite of the Russian composer.
Special guests Their Royal Highnesses Prince Guillaume and Princess Sibilla, as well as Luxembourg's Minister of Family and Integration, Corinne Cahen, joined the SOS friends and regulars of the Philharmonie for this evening of musical excellence and solidarity.