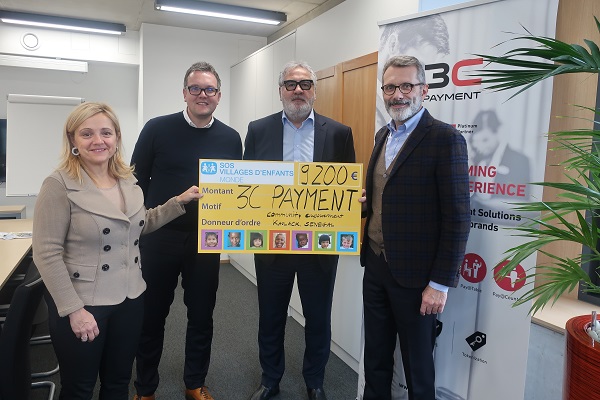 Credit: SOSVEM
3C Payment, a Luxembourg-based company specialising in worldwide credit card payment solutions, has donated €9,200 to SOS Villages d'Enfants Monde (SOSVEM).
In the presence of Michele Ferraris, CEO of 3C Payment, and members of its Management Committee, 3C Payment recently presented the Luxembourg association SOSVEM with a cheque for €9,200 to support the latter's community programme set up in 2017 in Kaolack in Senegal. The cheque presentation was held on 21 November 2019 at 3C Payment's headquarters in Leudelange.
On this occasion, Michele Ferraris welcomed the commitment of her company: "While 20 November coincided with the 30th anniversary of the UN Convention on the Rights of the Child, 3C Payment is committed to contributing to the Improving the situation of vulnerable children around the world to secure a better future for them by supporting the projects of SOS Villages d'Enfants Monde".
For her part, Sophie Glesener welcomed this new partnership with 3C Payment and spoke about the work of the association in Luxembourg in connection with that of the world federation SOS Children's Villages International which, for 70 years, has been working for the protection of children. She commented: "I warmly thank the management and staff of 3C Payment for this generous gesture to vulnerable children in Senegal through our development programme in Kaolack. By accompanying 70 families and 370 children, it focuses on strengthening and empowering communities so that they can care for their children in full respect of their rights".
The event continued with a short film and a presentation of the projects in Kaolack, which has shown encouraging results on the ground.