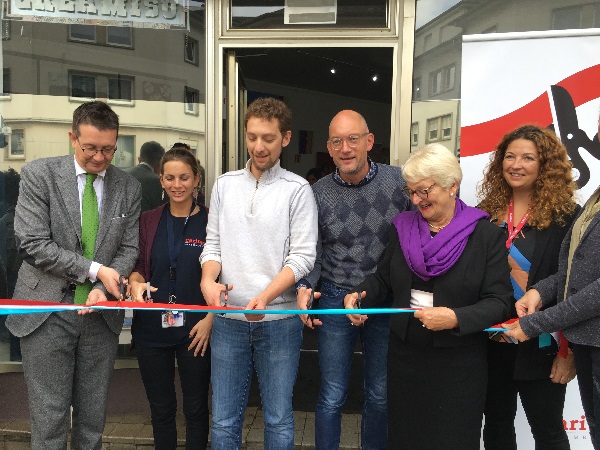 Inauguration of the new Creamisu premises; Credit: Caritas Luxembourg
On the occasion of World Homeless Day, Caritas Luxembourg today inaugurated the new premises of its "Creamisu" artistic studio for marginalised groups.
This space is dedicated to people who are homeless or living in precarious situations. The goal is enable these individuals to use artistic expression (painting, music, sewing, etc.) to break the monotony of daily life, care for and express themselves and thus regain their self-esteem and dignity.
All the necessary material is made available to the participants on site. Workshops are run by volunteer artists and the various creations are presented through concerts, exhibitions and recordings. The Creamisu programme also includes museum visits, concerts, exhibitions and various cultural activities, as well as participation in artistic contests.
Creamisu is in line with Caritas Luxembourg's desire to extend its assistance beyond the material needs of marginalised groups. The charitable foundation thus offers these people a chance to break free of the isolation and loneliness which they often experience, with the ultimate goal of allowing them to one day reconnect with society.
In 2018, the studio was open nearly 270 days. It welcomed 7,419 participants, including 4,529 who participated in creative activities. 910 of these were related to music, singing, composition and recording, 573 to cooking and 3,046 to drawing, DIY, sewing and jewellery making, etc.
Creamisu was initiated two years ago with the support of the Oeuvre Nationale de Secours Grande-Duchesse Charlotte and is currently funded in part by the Ministry of Health and many private donors. This artistic space is now located at 2a Rue Irmine in Luxembourg-Bonnevoie. The new premises allow artists to work in greater comfort with more space and dedicated areas.