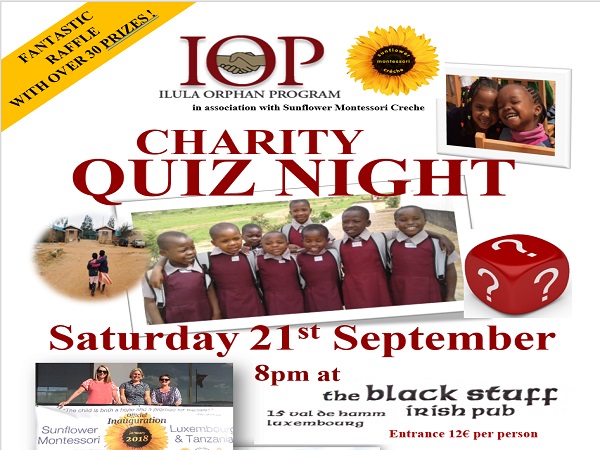 The IOP Luxembourg, officially called the Ilula Orphan Program Tanzania-Luxembourg, will be holding its annual charity quiz night on Saturday 21 September 2019 at 20:00 at the Black Stuff Irish Pub in Luxembourg-Hamm.
The NGO IOP Luxembourg manages the "Ilula Orphan" sponsorship programme through which families in the Grand Duchy can sponsor a Tanyzanian child for €240 per year. IOP Luxembourg sends all the money to IOP Tanzania, whose sponsor office puts the money towards fulfilling the educational and care needs of the child. IOP Luxembourg liaises with the Tanzanian office and follows up on each child. The office then provides feedback as well as letters from the children to the sponsoring families. IOP Luxembourg also engages in fund-raising for various projects, such as the construction of the Sunflower Primary School in Ilula in Tanzania in January 2018.
The upcoming quiz is the NGO's biggest fundraising event of the year; the event usually collects around €3,000 to €4,000, between entrance fees and raffle ticket sales, for the programme. Prizes include a large beer pump.
Participation costs €12 per person.
To book a table for a team (maximum six people), e-mail: contact@iopluxembourg.org or contact Sonya Heffernan via tel.: 691-831491.