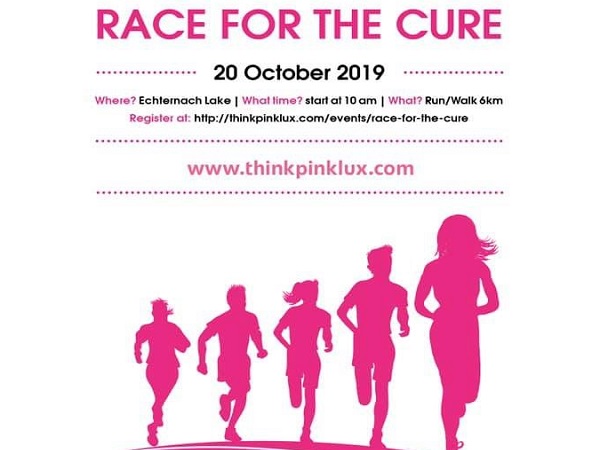 For its 10th anniversary, Think Pink Lux has teamed up with Think Pink Europe, a non-profit organisation that supports the fight against breast cancer, to host Luxembourg's inaugural "Race for the Cure: Run Pink, Walk Pink" at Echternach Lake on Sunday 20 October 2019 from 10:00 to 13.00.
The Race for the Cure® is the world's largest and most successful education and fundraising breast cancer event. This year, Think Pink Lux in collaboration with Think Pink Europe is bringing the Race for the Cure to Luxembourg for the first time with the support of the Ville d'Echternach and Echternach Youth Hostel.
The event is a non-competitive walk or run during which all participants celebrate life, show their solidarity with survivors and remember those who are no longer here. The participants are required to raise funds for projects in research, education or that directly support those with cancer. 80% of all funds raised will remain in Luxembourg and go towards Think Pink Lux's research projects at the Luxembourg Institute of Health (LIH). The remaining 20% will go to Think Pink Europe for a community project. It is widely accepted that early detection and prompt, effective treatment saves lives but there are huge differences in services in Europe, therefore, funding may be awarded to services to provide free breast cancer screening and diagnostic services in regions where they are lacking.
The Luxembourg Race for the Cure is a 5.5 km run, walk or stroll for people of all ages and abilities around the lake in Echternach. Participants are encouraged to wear as much pink as possible and can participate as an individual or in a team. Individual registration costs €15 per person, team registration costs €120 per team of 10 and same day registration costs €17.50 per person. Children under 10 can participate for free.
For more information and to register, visit https://thinkpinklux.com/rftc2019.