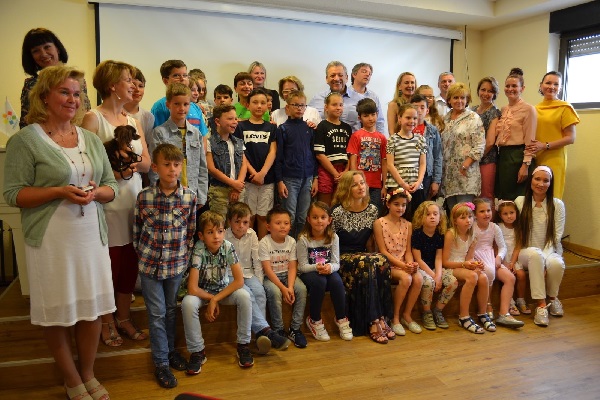 Kinomay 2017/18; Credit: Kalinka Russian School
The Kalinka Russian School has announced the return of the "Deksky KinoMay" charity film festival to Luxembourg next week.
Organised by the Detsky KinoMay Children's Charitable Foundation, with the support of the Russian Center for Science and Culture, the Embassy of Russia in Luxembourg, East-West United Bank (EWUB), the Kalinka Russian School and the Sistema Charitable Foundation, the festival will showcase Russian films for children and young people.
The Detsky KinoMay Children's Charitable Foundation, a public organisation, has been promoting since 2009 the best Russian films for children and youth, including the classics and new films. Film events are accompanied by a very diverse cultural and educational programme, including creative contests, meetings between cinematographers and spectators, as well as workshops.
The Grand Duchy is an exclusive partner of "KinoMay" outside of Russia. This year the festival will be held in Luxembourg for the fourth time. Luxembourg will once again welcome bright and talented "star volunteers", including Honoured Worker of the Arts of the City of Moscow Alexander Koltsov, actresses Marina Kudelinskaya and Irina Lindt, director Anna Bagmet, children's writer Anna Ignatova, director, scriptwriter and singer-songwriter Alexey Levshin.
Just before the film forum, there was a traditional writing contest for Russian-speaking children residing in Luxembourg. This year the topic of essays was "The Magic World of Theatre". The contest winners will be awarded with memorable prizes and gifts at the Embassy of Russia in Luxembourg on 14 June.
Then, on 15 June, a rich programme of cultural activities and events will be provided at the Kalinka Russian School, with film screenings and workshops — acting, vocal, literary, as well as workshops on Russian toy-making and on clay modeling. Students will also have an opportunity to watch a new edition of cartoon films by the Pchela Animation Studio, which uses different techniques of modern animation, such as modelling clay or woolen threads. The film "Eins, zwei, drei..." will be discussed with its director Anna Bagmet and actress Irina Lindt, whilst the film "Autumn of the 41st" will be presented by one of the leading actresses Marina Kudelinskaya. Also on 15 June, the concert "Melodies of the Great Illusion" will take place in the cinema hall of the Russian Center for Science and Culture. Theatre and cinema actor Alexander Koltsov will present some music pieces from Russian films of the 1930s-1990s in stories, songs and ballads.
Finally, on 16 June, the KinoMay delegation will visit Trier in Germany, where the creative team will be received by two Russian cultural clubs and the Matryoshka Russian School. Spectators will watch feature films "Eins, zwei, drei..." and "Heavenly Camel", before discussing them with the guest stars.