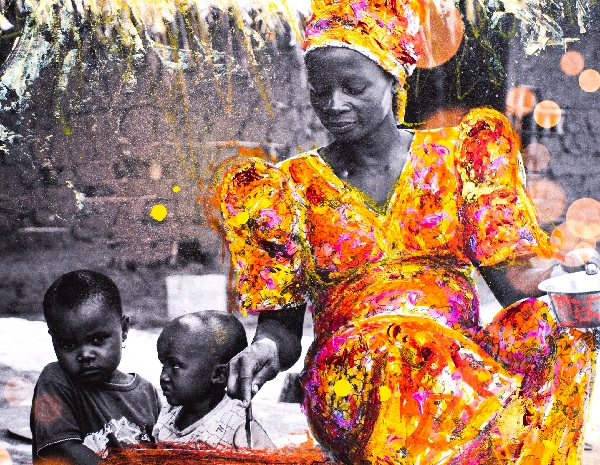 Credit: Sophia Rein
To celebrate Mother's Day, Fondation Follereau Luxembourg will be organising the inauguration of the exhibition "Beautiful Women – Mother's Day 2019" on Thursday 6 June 2019 at 18:00 at Maison Breedewee (9 Rue Large L-1917 Luxembourg).
Already on display since Monday at the Luxemburger Wort Shop, twelve original works will be exhibited from Monday 10 to Thursday 20 June in Maison Breedewee. It will be open to the public everyday from 17:00 to 18:00 (except on Friday).
Created in collaboration with the artist Sophia Rein, this exhibition celebrates African women, too often reduced to the image of a victim of poverty and oppression. In discovering the projects of Fondation Follereau, Sophia Rein decided to retain the qualities inspired by these women: strength, dignity, cheerfulness, delicacy, serenity ... Despite their difficult living conditions, these women are determined and positive. To celebrate all their facets, the artist has created compositions with vibrant, vivid, and contrasting colours.
For those wishing to give an original and committed gift to their mother this year, a fairtrade cotton totebag featuring one of Sophia Rein's works is available for the first 30 donations over €20 to the foundation's health projects for mothers and children. It is also possible to acquire one of the original and unique works, the sale price of which will go entirely towards Fondation Follereau.