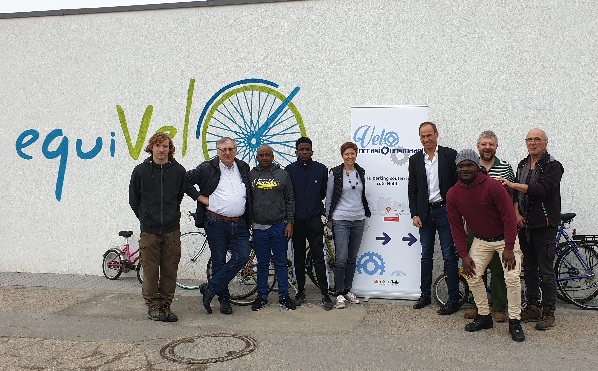 L-R: Nicolas Estgen; Jules Muller; Gaëtan Nadem Martial; Daniel Sium Bayre; Simome Polfer; Manu Konsbruck; Steve Kamdoum; Pol Estgen; Léo Loreti;
Last month, the Belle Etoile shopping centre organised its traditional "Velooccasiounsmaart", selling hundreds of second-hand bicycles.
Those bicycles that were either not sold or bought for donation-purposes at this second-hand market will contribute to the "EquiVelo" project in Junglinster. In total, the project received 120 such bicycles.
The project, launched last September by the Equiclic association a.s.b.l., has its own repair shop in which it repairs bicycles and then makes them available to all those who are in need. As such, applicants for international protection, refugees or any other person in need living in Luxembourg can find a bicycle in impeccable condition. EquiVelo also offers training sessions to learn the Luxembourg highway code and bicycle handling.
Those wishing to help the project further are invited to donate bicycles, helmets, spare parts, scooters and even children's go-cars to EquiVelo. For more information, visit www.equivelo.lu.