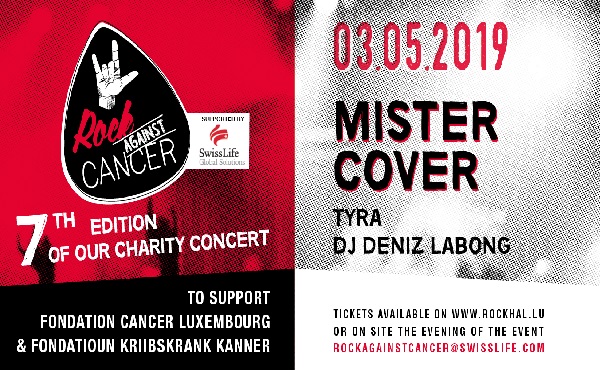 For the 7th year in a row, Rock Against Cancer will rock the walls of the Rockhal in Esch-sur-Alzette, on 3 May 2019.
This year, Mister Cover will return to the stage, the local Belgian DJ Deniz Labong will make a fourth appearance and for the first time, the event will welcome local star Tyra.
Rock Against Cancer was initiated in 2013 by employees of Swiss Life in Luxembourg. For the past six years, this event has been aimed at raising funds, fully donated to two Luxembourg organisations fighting against cancer: the Fondation Cancer and the Fondatioun Kriibskrank Kanner. Recognised by the "Trophée de l'Espoir" in its first edition, the increasingly popular event has already raised €140,000 for the creation of infrastructure especially for sick children.
For this new edition, Mister Cover will make his comeback after delegating the job to his little sister, Lady Cover, in last year's women-themed event. In order to diversify musical styles, Tyra, a local artist closely concerned by this charity event, will host also a part of the evening. A rising star on the European club scene, Tyra has already made it to the top 3 "Luxembourg iTunes Charts Dance" and top 25 "Hit des Clubs France". The concert will end with different mix sounds form DJ Deniz Labong, already well-appreciated in Luxembourg.
In 2017, 10,500 people suffered from cancer according to the Fondation Cancer Luxembourg. In order to prevent this disease from spreading, it is important to keep research moving forward. As such, everyone is invited to attend this fun-filled yet emotional event in support of a very worthy cause.
Doors will open at 20:00 for an 20:30 start.
Tickets are available for €20 at https://www.rockhal.lu/events-tickets/rock-pop/show/detail/rock-against-cancer-6/​.