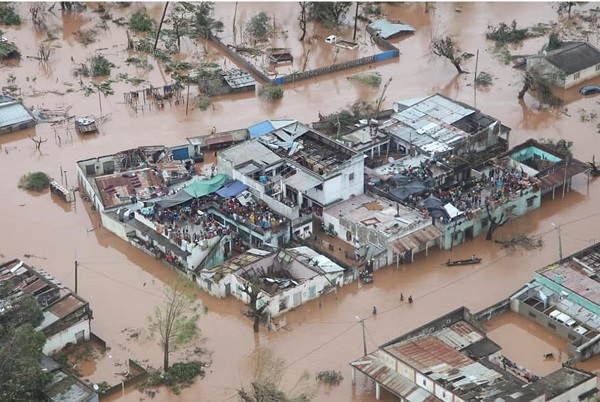 Beira, Mozambique; Credit: Mozambique Disaster Management Agency
SOS Children's Villages Internationa has launched a public appeal in Luxembourg for donations to help Mozambican families in need.
In light of the powerful Cyclone Idai that recently ravaged southern Africa (Mozambique, Zimbabwe and Malawi), SOS Children's Villages International has mobilised and launched a call for donations in Luxembourg to help the victims of the disaster.
On the night of 14-15 March 2019, Cyclone Idai devastated central Mozambique. The eye of the cyclone passed close to Beira and the port city of 500,000 was separated from the rest of the country, with bridges and roads destroyed. Nearly 90% of the city has been badly damaged with tens of thousands of homes, dozens of health centres and hundreds of classes having been destroyed. In other regions, entire villages have disappeared. There are currently over 200 reported deaths and countless people have been afflicted and/or displaced.
Neighbouring Mozambique, Zimbabwe has also been hit hard, especially in the north-west of the country. The human toll is currently about 100 dead, 200 missing and 10,000 injured. Whilst Malawi has been less badly affected, the country remains very vulnerable since it has not yet recovered from the heavy rains from early March.
In response, an emergency team from SOS Children's Villages Mozambique arrived yesterday in Beira. For the time being, the team will assess the situation in the SOS Village and in the neighbourhoods where the local association runs programmes to be able to intervene quickly and help the countless families affected. Children in SOS care and team members who have lost their homes will need psychological support. For now, the team is working to find solutions for water supplies and food that must come from Maputo, the capital. Beneficiaries of family strengthening programmes have suffered particularly in Beira but also in Chimoio.
Those wishing to help victims of Cyclone Idai can make a donation via bank transfer to the account CCPL IBAN LU65 1111 0050 0053 0000 (citing "Urgence-Cyclone Idai") or via the website www.sosve.lu.