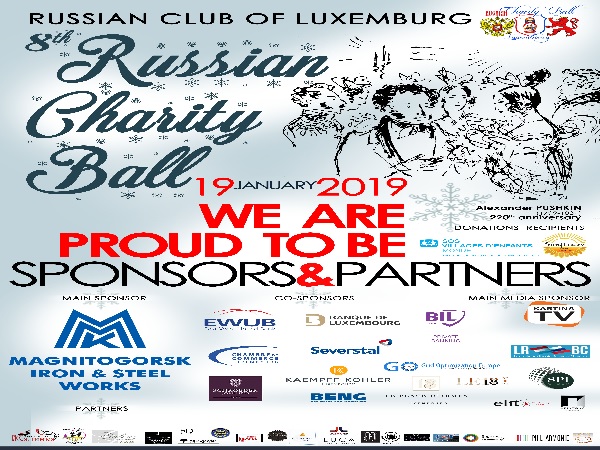 The Russian Club of Luxembourg will hold its 8th annual Russian Charity Ball on Saturday 19 January 2019 at 18:30 at the Cercle Cité in Luxembourg City.
This evening, orgnaised by the Russian Club of Luxembourg, will once again bring together many personalities from the world of economics and culture of Luxembourg society, as well as the Russian community in Luxembourg. The ball donates all its proceeds to charity; the seven previous events raised the sum of €326,000.
The gala evening will begin with an aperitif offered by the event's partners, Gales, SPI Group and Kaempff-Kohler, the latter providing a gourmet dinner on this occasion. This year, "Pushkin Ball" was chosen as the theme of the charity event to mark the 220th anniversary of Russian poet Alexander Sergeevich Pushkin and to pay tribute to the cultural heritage of Russia.
Present at the 8th Russian Charity Ball will be honorary guests Alexander Alexandrovich Pushkin, the great-grandson of the famous poet, and his wife Maria Alexandrovna.
The evening's hosts will be RTL journalist Natalie Reuter and Russian singer Pavel Artemyev. They will orchestrate the event's entertainment.
The full programme will present the work of Alexander Pushkin. Guests will be able to hear excerpts from his poems, listen to beautiful classical music performed by the string quartet "Dialog-Quartett", hear an opera of "The Tale of Tsar Saltan" by N. Rimsli-Korsakov and performed by the rising star of Russian opera, Oksana Shishenina.
Another key point on the agenda will be the performance of fairytale dances by Svetlana Nosova and Yvan Negrobov, ballet dancers from the Voronezh City State Theatre,
The young Luxembourg gymnasts of the Rythmo-Cats Rhythmic Gymnastics Club will also dance to Vivaldi's "Four Seasons" whilst Luxembourg sports dances athletes Aliona Filko and Carlo Ennio Stasi will ignite the dance floor with waltzes and tangos and invite guests to join them in a fun master-class.
There will also be a fashion show featuring clothes from Couturissimo and jewellery from Joaillier Schroeder and, as every year, an auction and raffle where he guests will be able to compete for historical objects or objects of art or luxury. One of the main prizes this year will be the complete edition of A.S. Pushkin's works with a dedication to his great-grandson A.A. Pushkin. At the end of the evening, all guests will receive gifts.