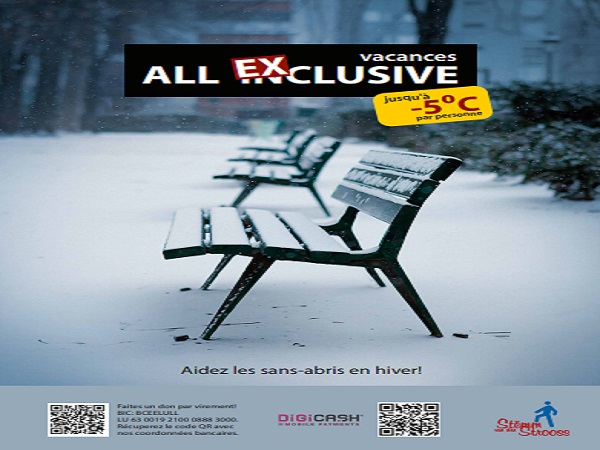 Stëmm vun der Strooss has launched an awareness campaign on the issue of homelessness in Luxembourg.
Every winter and for the third year in a row, Vianden-based company "The Loupe" creates a poster for Stëmm vun der Strooss in order to draw attention to the problem of homeless people and people in need in Luxembourg. This year's poster, designed by Tetyana Karpenko, aims at helping the Stëmm vun der Strooss to raise more money for this cause.
Poverty in Luxembourg is increasing: over the first 10 months of this year, 82,835 meals were served in the two social restaurants in Hollerich and Esch-sur-Alzette, compared to 51,083 in 2015, an increase of 38% over the last three years. Looking only at the Hollerich restaurant, 65,649 meals have been prepared so far this year, compared to 34,544 in 2015, an increase of 47%.
Those wishing for a copy of the awareness poster can receive one or more free of charge via tel.: (+352) 49 02 60 36. The poster is also available on the website of the association www.stemm.lu.
To make a tax-deductible donation, simply make a transfer to the account LU63 0019 2100 0888 3000 BCEE.