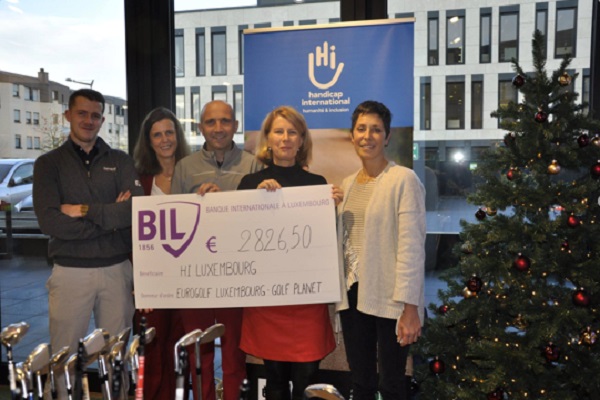 Barbara and Ludovic Forzy (Golf Planet directors) with members of their Golf Planet team present a cheque to Bénédicte Degeest (Vice President of Handicap International Luxembourg); Credit: Handicap International
Eurogolf Luxembourg has donated €2,826 to Handicap International for its "School4All" campaign.
For the fourth year in a row, the Eurogolf Luxembourg Golf Planet group collected money for Handicap International during the Eurogolf - Golf Planet Tour 2018. Thanks to the generosity of the golfers, the sum of €2,826 was collected for the benefit of the NGO's "School4All" campaign aimed at giving every handicapped child access to an education.
Today, 32 million children with disabilities do not have access to school. This is due to various reasons: a lack of support systems and adapted teaching methods, inaccessible school infrastructure, etc. In response, August 2018 saw the launch of this awareness campaign which aims to allow children to find their way back to school.
The funds raised by Golf Planet will already ensure the schooling of one child. However, a further €542 would enable a second child to go to school. As such, the call for donations continues via http://bit.ly/collecte-golfplanet.