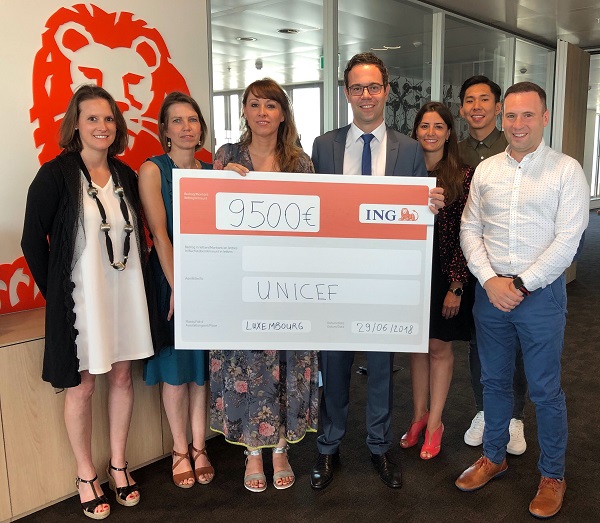 ING Luxembourg supports Unicef Luxembourg in 2018;
ING Luxembourg has presented a cheque worth €9,500 to Unicef Luxembourg following a social responsibility initiative over Easter and in May and June.
At Easter, bank staff were invited to buy Easter eggs, with the proceeds supporting Unicef Luxembourg: this action raised €1,270.

Then, on 12 May, ING installed an ING Express Shop at LuxExpo for the 13th annual ING Night Marathon in Luxembourg. This temporary shop offered the public a series of ING products, including watches, t-shirts, key chains, gym bags, headphones and more. The goal was to sell as many items as possible and then donate the proceeds to Unicef Luxembourg This initiative alone raised €2,628.

And June saw the launch of two additional initiatives that have been considerably successful with ING employees. The more kilometres they run, the more money ING donates to Unicef Luxembourg. Firstly, on 9 June, 28 runners from ING divided into 4 teams with each team member running for 6 hours at 24H RUN WILTZ; and, secondly, on 12 June, 110 runners and walkers set off for the ING Run for UNICEF/Run for Youth.

Thanks to these three initiatives in May and June, all of which have been very successful, ING Luxembourg confirmed that all the funds raised during these two months, i.e. €5,073 have been donated to the joint ING-Unicef "Power for Youth" programme intended to help adolescents from five countries (China, the Philippines, Vietnam, Kosovo and Montenegro). The programme aims at empowering teenagers around the world by providing them with the skills and tools they need so that they can be the future work force, the future entrepreneurs, and the future leaders of their countries.

ING Luxembourg have also supported Unicef Luxembourg in the renovation of its new headquarters in Luxembourg. With a financial donation of €3,000, the bank hopes to contribute to the modernisation of a meeting room or the purchase of furniture for the offices at the new headquarters.